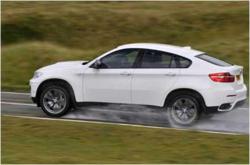 (PRWEB UK) 18 September 2012
What is it?
New addition to BMW's X6 range, the crossover 4x4-coupe-sports car dating back to 2008, with refreshed styling, particularly at the front. The meaning of the 'M' badge fills a niche that falls shy of the full-Monty X6M, but exceeds the other models in the range. This so-called M-Performance approach means BMW's most powerful ever diesel engine and an alternative to the very high running costs of the petrol-powered X6M. From £62,260 OTR.
What's hot?
An almost unbelievable amount of shove, 381hp and 740Nm of torque, and 062mph of 5.3sec…
…yet still acceptable combined mpg of 36.7
New look at the front, from air intakes to 'Powerdome' bonnet…
…plus purposeful 20 inch double spoke alloy wheels as standard
Fabulous cabin comprising lots of alcantara and nappa leather sport seats as standard equipment
Brilliant, car-like handling for such a large vehicle, aided by BMW's Adaptive drive, not standard on models beneath the X6
Sportier and more dynamic than most SUVs, including its nearest stablemate, the X5M
What's not?
Bling looks still controversial – and the sloping roofline still compromises interior and luggage space
Subjective driving experience not very different from the much cheaper X6 xDrive 40d, at least until you visit a track
Slips into a higher tax band than X5 M50d, at 204g CO2
34% BIK for 40% tax payers means a bill of almost £700 a month
Wind noise is pronounced at all speeds when the optional sun roof is open
BMW Car Review: Business Car Manager Verdict
The X6 did not meet with universal approval when launched four years ago, with some people asking what exactly it was for, and others disliking the mash-up styling, part coupe, part SUV.
The square-cut X5 continues to be BMW's big seller, yet the X6 is still with us and appeals to a discerning group –women among them - who want most of the practicality of an SUV but a bit more flamboyance and less obvious bulk.
The refreshed looks of the X6 make it a tidier visual proposition, while this new M-Performance model adds 20 inch wheels and domed bonnet. But its real calling card is the incredible power coming from BMW's most powerful ever diesel engine, which is now fired along by not two, but three turbo-chargers, a world first. This means a great slab of power across a wider-then-ever band of revs, shooting this large, 2.2 tonne vehicle down the road with enormous force.
Along with standard Adaptive Drive, the X6 M50d is also the best handling X6 to date, and much better than the flawed and thirsty X6M. Comparison with the model below, the X6 xDrive 40d, is less clear cut, and don't forget the other new contender here, the X5 M50d – identical performance but one tax band cheaper, in a more practical package.
Sticking to the X6, your model choice depends on how much you value the M-performance package, and how much you are willing to spend on options. You could heavily spec an xDrive 40d for the same price as a bare M50d. Our test car, with £11k of options, added up to an eye-watering price tag of £73,845.
The bad news about the X6 M50d is the huge BIK costs for business users, meaning a monthly bill of nearly £700. For some reason, the X6 M50d also falls into a worse tax bracket than the X5 M50d, meaning higher showroom tax and VED in band K. It should also be added that despite the amazing handling, you can't exploit it much on English roads. This is still a massive, heavy vehicle.
For bragging rights, the M50d is very appealing, but it's very difficult to recommend to business users over other vehicles in BMW's arsenal that are more fun to drive and far less expensive to run. If you want an X6 with big performance, the xDrive 40d is a better bet.
For the latest business car reviews, visit the Business Car Manager website.