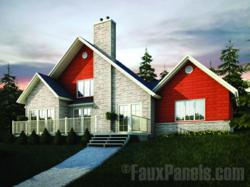 Classic fieldstone with modern installation
Deer Park, NY (PRWEB) September 25, 2012
Faux Panels adds another exterior siding panel option with Novi Fieldstone Plus. Now both contractors and DIYers have more style options.
"Genuine fieldstone is literally that – stone used in its natural shape, traditionally collected from the surface of fields when they're cleared for planting. Our Novi Plus version provides the same fantastic look and texture of traditional fieldstone at a fraction of the cost and without harming the environment," said Steve Barron, president of Faux Panels.
Because of real fieldstone's origins, it's often been associated with rural areas, creating a distinctive architectural look. Now thanks to Novi Fieldstone Plus, anyone can create that authentic look quickly and easily, without the high cost.
Made from strong polypropylene, these artificial rock siding panels will last a long time while still looking great. Whereas genuine stone can chip, erode and dust, Novi Fieldstone Plus easily weathers routine wear and tear, harsh temperatures, wind, rain, ice and snow. Thanks to its nearly zero UV degradation, it won't fade with time.
Novi artificial rock siding panels interlock, so installation is easy. Home owners using a contractor will spend less in labor costs. People who prefer to do it as a DIY project can get professional looking results. Either way, it's a lot cheaper than hiring a stone mason.
Novi Fieldstone Plus comes in three color options that mimic natural fieldstone. Misty Beige features a warm, sun-baked light tan. Shadow Gray is a neutral shade that evokes New England farmhouses. Smoke White is a paler option reminiscent of Maryland fieldstone, yet looks great everywhere.
While Novi Fieldstone Plus is primary used for exterior renovations, depending upon the local building codes in a given area, it can be used indoors, too. Just check the fire rating rules for your area.
"Adding a fieldstone design option with the new Novi Plus texture and its easy interlocking design gives customers a great new look with classic convenience," said Barron.
FauxPanels.com is an industry leader due to wealth of installation guides for DIYers and the best selection of the realistic faux brick, stone and wood panels and columns on the market. Its products have been regularly featured on television shows such as "Celebrity Apprentice" and numerous appearances on "Extreme Makeover: Home Edition." FauxPanels.com is a subsidiary of Barron Designs Inc., a family-owned home improvement business operating since 1972. For more information, visit FauxPanels.com.