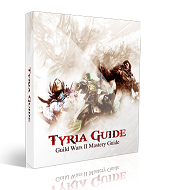 (PRWEB) September 12, 2012
Guild Wars 2 has quickly become one of the most popular MMORPGs on the market since its recent release. In fact, the game was so popular that the creators had to stop sales until they could catch up with the overwhelming demand for the game.
One of the most popular aspects of Guild Wars 2 is the crafting system. The crafting system is different from other MMORPGs because players have to "discover" recipes by randomly combining ingredients together. With thousands of recipes in the game for players to discover, leveling up a craft can be a tricky task.
Fortunately, the new Guild Wars 2 Guide Tyria Guide has provided players with an easy to understand yet comprehensive crafting guide that they can use to level up quickly and efficiently without all the confusion that goes with finding your own recipes. This strategy guide for crafting covers all 8 crafts:
Armorsmith - This craft creates the heavy armor used by the Guardian and Warrior classes.
Leatherworker - Leatherworking is used to produce the medium armor used by the Thief, Ranger, and Engineer.
Weaponsmith - Weaponsmiths create metal-based weapons like swords and daggers. These can be used by all the classes, making this a popular craft choice.
Artificer - Artificers are able to create magic weapons such as scepters used by the Scholar classes: the Mesmer, the Necromancer, and the Elementalist.
Chef - Chefs cook food which players can consume for various short-term buffs such as extra experience points or extra damage dealt.
Huntsman - Huntsman create wooden-based weapons like short bows.
Jeweler - Jewelers create both jewelry as well as jewels which can be used to augment the stats of your character's armor.
Tailor: Tailors craft light armor which is used by the Scholar classes.
With all the different crafts, it can be hard to figure out where to start. Tyria Guide has all the details you need in their new crafting guide. More details at Strategy Guides HQ.