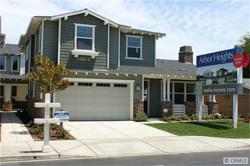 Newport Beach, CA (PRWEB) September 17, 2012
The Newport Beach Real Estate market is on the rebound as home buyers and investors alike are back in the market. 2012 has become a great year to buy a home as real estate values start to increase. Due to the low housing inventory, multiple bids are common when new listings come on the market. One of the new exciting communities in the Newport Beach area is the Arbor Heights community built by Melia Homes. The Sam Smith Team of Newport Beach has successfully negotiated an accepted offer for their buyer and currently opened escrow. Arbor Heights new construction two story homes are currently priced in the low $700,000's which is a tremendous value with comparing similar type homes in the Newport Beach area. Home buyers looking to buy a new construction home in the Newport Beach area should consider the Arbor Heights community for it's open floor plan, quality finishes and competitive pricing.
Melia Homes is the builder of these high quality homes located on the east side of Costa Mesa. The home pictured above features 4 bedrooms, 3 baths with up to 2,248 sq.ft of reported living space. The homes have great curb appeal with dutch doors, 9 foot ceilings and top of the line kitchen appliances. The home incorporates modern technology with key-less entry and clean modern lines in the kitchen and baths.
It's important to connect with a skilled local Newport Beach Real Estate agent that can help identify good deals as they come on the market. For additional information on Real Estate in Newport Beach go to http://www.newportbeachrealestate.com of call The Sam Smith Team at 949-444-1901 today.