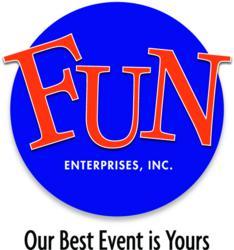 Everyone in the whole company wanted to be part of this. Our culture has always been about giving back. This is a chance for us to make a difference. - Ken Abrahams, VP of Client Relations
Boston, MA (PRWEB) September 13, 2012
This October is National Breast Cancer Awareness Month and FUN Enterprises, Inc., the Massachusetts based company known for their corporate, educational and private events nationwide, is stepping up to support those whose lives have been affected by breast cancer. FUN Enterprises, Inc. will be making donations from every booked event during the month of October to local organizations fighting for a cure.
The theme for the month is "Fun Goes Pink." It's an interesting choice of words considering the company is known for their bright orange shirts at every event. Not so this October, as FUN Enterprises, Inc. employees will sport bright pink shirts at every event during the month to show their support for this worthy cause.
"Almost everyone here has been affected directly or indirectly by breast cancer," says Ken Abrahams, FUN Enterprises, Inc.'s VP of Client Relations. "Everyone in the whole company wanted to be part of this. Our culture has always been about giving back. This is a chance for us to make a difference."
FUN Enterprises, Inc. is a full service events company. Their experienced team carefully coordinates every detail of their programs and works closely with every client before, during and after an event. FUN Enterprises Inc.'s experienced staff understands that every client's needs are unique and every event should be first class. That's why they are a part of over 1,000 events every year.
Fun Enterprises, Inc. is also the exclusive booking agent for Michael Miller. Michael is one of the nation's most exciting inspirational leaders who possesses a rare blend of knowledge, passion, enthusiasm and the ability to focus and inspire any group, from the CEO to the newest intern. See Michael in action here.
FUN Enterprises, Inc. encourages all groups to book Michael Miller, plan an event and join them during the month of October to raise awareness and support breast cancer patients, their families and research to find a cure. There couldn't be a better way for a company, university or organization to show they care.
Whether it's planning a corporate retreat, training session or a major event for thousands, FUN Enterprises, Inc. is the resource for success. As a company focused on entertainment and inspiration, FUN Enterprises, Inc. is proud to support local charities that are working towards improving lives.