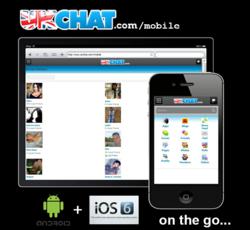 UkChat.com, creating friendships that last.
(PRWEB) September 12, 2012
UkChat.com has made major improvements to their site recently. UkChat is a social network aimed at the UK demographic with Free UK Chat Rooms, its goal is to connect people who are searching to find new friends from the UK. UkChat is always striving to improve accessibility and ease of use to their site and have made major improvements regarding both of these areas. UkChat today announced it has extended the UkChat platform to mobile. The features launched today and are still under development, they are expected to evolve in the coming months.
UkChat.com can now be accessed via any mobile phone (and not just smart phones) or device. The site will automatically detect that a user has enetered the site on a mobile device, we have a large database to help automatically load our mobile theme for most mobile and hand held devices by default, but if for some reason the device being used is not detected then this can be easily resolved by simply navigating the browser to UkChat.com/mobile. UkChat.com can now be held in the palm of a hand. From the mobile platform members can use UkChat to almost full functionality. From the mobile platform members can send and receive emails, find friends, add friends, post on forum pages and interact with other members profiles just as if they were at a desktop pc.
UkChat has made other improvements to their Free UK Chat Rooms and the site as a whole. The chat room technology has been upgraded and now has webcam support. Known as "many to many" cam technology it allows a single webcam to be viewed by many and many webcams to be viewed by one person. Video chat is a crucial element to UkChat's development as it helps new friends find each other. UkChat have used "many to many" cam technology as it can provide users with the widest range of webcam scenarios possible and this is unlike the vast majority of chat sites. With "many to many" cam technology, members have the option to privately cam to cam with one friend, or, broadcast themselves to groups of people whilst viewing other webcam feeds. Of course the technology allows for full privacy control and it is easy to change settings for security parameters on the users end.
UkChat.com is committed to providing Free UK Chat, innovating and improving their services. UkChat.com is always seeking out new technologies to improve the quality of the site and users experience. Recent improvements to the site have been made thanks to user feedback. UkChat always heeds feedback and suggestions from its users.