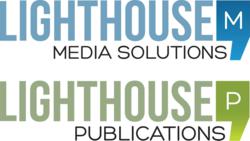 Hyannis, MA (PRWEB) September 13, 2012
Lighthouse Publications and Lighthouse Media Solutions has announced the addition of a 12' x 20' green screen and a lighting studio that will make it effortless for local businesses to spread the word about their companies through a variety of marketing avenues.
Located at the Lighthouse Publications and Lighthouse Media Solutions Hyannis office, the new green screen and lighting facility will allow for the production of high quality television commercials, radio spots, web videos, customer testimonials, infomercials, training videos, company overviews, product demonstrations, instructional videos and numerous other forms of videos and photography.
Lighthouse Media Solutions possesses a full team of writers, directors, producers and editors that can handle any project from development to completion, thanks to the utilization of state-of-the-art equipment and technology such as: Final Cut Pro, DVD Studio Pro, Motion, After Effects, Photoshop and Lightwave.
In addition to their audio recording and animation facilities, the video department also works closely with Lighthouse Media Solution's full team of graphic designers to ensure a professional finish to all projects.
The new green screen and lighting studio features three soft light Richardson Mole bright reflectors made in Hollywood; three 500-watt ETC Source 4 lights; two 750-watt Altman stage lights; and four 1,000-watt 1K beam spread stage lights.
Lighthouse Media Solutions has produced thousands of videos, promotional reels, commercials, viral videos and television shows for a wide range of clients.
Lighthouse Publications & Lighthouse Media Solutions offer fully integrated marketing solutions and high-end glossy print publications that include: cutting-edge website and mobile app design; development and optimization; social media expertise; professional video and audio production; marketing and sales collateral materials. Lighthouse Publications includes Southern New England Living; Southern New England Home; Southern New England Weddings; Southern New England Weddings Destination Edition; Golf & Leisure Cape Cod and Home Remodeling. New in 2013 is New England Boating.