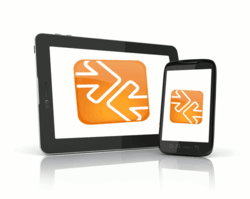 "We're seeing companies focused on customer collaboration technologies and mobile compatibility as top priorities for 2012-2013, and LiveLOOK continues to develop mobile-ready solutions to support those initiatives."
(PRWEB) September 13, 2012
LiveLOOK, the leader in co browsing technology for sales and customer service, announced today the launch of its new Mobile Agent solution which enables agents to access the LiveLOOK Co Browse Agent Console in order to connect to a co browsing session on any mobile device. This new capability is particularly attractive to companies with service agents out in the field, offering a new way to visually collaborate with online customers and colleagues while on-the-go.
Available immediately, LiveLOOK's Mobile Agent feature is available to all LiveLOOK customers as part of their existing Co Browse subscription.
"The ability for agents to launch and join sessions from a mobile device is a feature that aligns well with customer service strategies today," said Igor Khalatian, LiveLOOK's CEO. "We're seeing companies focused on customer collaboration technologies and mobile compatibility as top priorities for 2012-2013, and LiveLOOK continues to develop mobile-ready solutions to support those initiatives."
Benefits of introducing agent co browse mobility include:

Enables field agents to collaborate instantly with online customers or colleagues.
Allows the ability to bring subject matter experts into a co browse session seamlessly, wherever they are.
Introduces the opportunity to integrate with other mobile agent platforms.
About LiveLOOK
LiveLOOK is an innovator in visual sharing and real-time online interaction. LiveLOOK's products enable instant-launch, universally compatible Web collaboration via screen sharing. Companies incorporate LiveLOOK's solutions into customer experience and online sales strategies in order to guide customers through resolution of service issues and completion of purchases. For more information, visit http://www.LiveLOOK.com