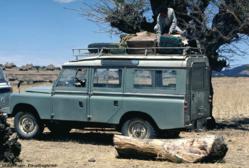 Leading to all 4x4's becoming leaner, lighter and more fuel efficient at every turn.
(PRWEB UK) 16 September 2012
Sureterm, the specialist 4x4 insurance arranger, has been looking into the environmental impact of these 'ultimate' vehicles, as Sureterm's growing book of 4x4 business is showing the popularity of RUV's is on the up. There are vehicles to suit every budget and lifestyle from Panda's and Suzuki's to Land Rovers and Range Rovers and the even more prestigious makes such as Porsche, Audi and now even Bentley have been cashing in on the growing popularity. So does owning a 4x4 still mean that the environmentally conscious should steer clear or is it time for everyone to jump on the bandwagon?
Historically 4x4's have had a bad reputation when it comes to the effect they have on the environment and global warming, as they were considered to be fuel guzzling with low miles per gallon and high emissions. With the Government's ever increasing road tax rates and the potentially high insurance rates, there is still a lot of opposition to for 4x4's. Is this all about to change?
Land Rover pride themselves on their 'Take back and Recycle' schemes where any complete Land Rover vehicle, regardless of age, can be handed back free of charge to Land Rover to recycle the parts and apply a de-pollution process to limit the effect the vehicle has had on the environment. The major 4x4 companies are also deeply involved with carbon offsetting of the CO2 emissions created with the manufacture of their cars and for every Land Rover's first 45,000 miles. There is even some debate that the older or 'classic' versions of Land Rover models, in particular, have been on the roads so long that the environmental impact has been long out lived. There are thousands of 90, 110, series 1 etc. still alive and well on the roads today.
It's not just Land Rover who are concerned about the environmental effects of vehicles on the roads, Porsche has 6 environmental principles, and Audi are passionate about investing in the future to ensure the impact of vehicle manufacture and running, is as efficient and clean as possible. All modern vehicles are having more and more EU lead legislation imposed, bearing an impact on both the design and the way a vehicle is manufactured. Leading to all 4x4's becoming leaner, lighter and more fuel efficient at every turn.
Everyone knows that driving any type of vehicle is not good for the planet, but it seems that the growing global awareness of the real impact has affected the car industry as a whole, with no one denying that something needs to be done. Whilst the Government aren't going to reduce road tax anytime soon it looks like perhaps 4x4's aren't going to be so bad environmentally in the long run after all? It is clear that there is a long way to go.
Sureterm is one of the UK's leading names in specialist insurance and has been providing excellent service for its customers since 1998.
Sureterm's competitive pricing and excellent level of service ensures that their valued customers stay year after year. With enthusiastic staff who understand that customers have specific requirements when searching for insurance and are not just looking for cheap insurance. Sureterm can arrange policies to include a wide range of features and benefits tailored to satisfy customers specific needs.