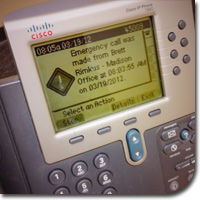 Our customers should feel comfortable running the latest version of InformaCast with Communications Manager 9.0
Madison, WI (PRWEB) September 17, 2012
Singlewire Software (http://www.singlewire.com), developer of network-centric notification software for emergency notification, audio and text paging via Cisco phones, overhead speakers, computer desktops, and more, today announced provisional support for the release of Cisco Unified Communications Manager (CUCM) 9.0 for use with Singlewire InformaCast.
CUCM is a Cisco product used by organizations for managing voice and video calls across their entire enterprise. InformaCast uses CUCM in part for sending text and/or audio broadcasts to Cisco IP phones, IP speakers, computer desktops, and other endpoints on a network.
With the release of CUCM version 9.0, Singlewire conducted a series of quality assurance tests with the latest version of InformaCast to validate that the features and functions work properly. Testing included InformaCast VA (Virtual Appliance) version 8.2 and InformaCast 8.1 for Windows.
"Our customers should feel comfortable running the latest version of InformaCast with Communications Manager 9.0," states Jerry Steinhauer, Chief Technology Officer at Singlewire Software. "Everything checks out. With the release of Communications Manager 9.0, we didn't have to make any code changes to InformaCast or issue an updated release."
A PDF document outlining all the changes made to the administrative interface in Communications Manager 9.0 has been published and is available for download on the CUCM 9.0 provisional support page on the Singlewire website at http://www.singlewire.com/cucm9support. Updates to the user manual will be incorporated into the next release of InformaCast due out later this year.
The InformaCast platform for mass notification and emergency communication was developed in the weeks following the 9/11 attacks to evacuate federal buildings within 15 minutes. Over 3,000 organizations in 50 countries have implemented InformaCast as their notification and overhead paging system. It can be purchased through registered partners of Singlewire. For more information, visit http://www.singlewire.com.
About Singlewire Software
Singlewire, based in Madison, WI, develops and supports innovative voice applications centered around secure, fast, and reliable mass notification capabilities. Our main offerings include: InformaCast, PushToTalk, and RemotePhoneControl. To learn more, please visit http://www.singlewire.com.