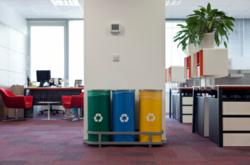 Valor Janitorial assists a client reduce their landfill waste by 10% each year.
Dallas, TX (PRWEB) September 13, 2012
Though Executive Order 13101 was signed in 1998, its implementation is gaining momentum in the wake of the recent national conventions. The directive defines green cleaning as the use of products and services that reduce the health and environmental impact as compared to similar products and services used for the same purposes. The Republican and Democratic National Conventions made very visible efforts to reduce their landfill waste. The Republican convention placed over 550 recycling bins throughout the facility. The Democratic Convention organizers replaced each single trash bin with three receptacles (one compost, one recycling and one landfill bin), and also stationed "recycling police" at each set of bins to assist the delegates with their waste disposal.
Businesses are stepping up their green game, too. "Many large companies are very concerned about their environmental footprint and have contracted with us to reduce their landfill waste," says Brandon Hayes, President of Dallas commercial cleaning company, Valor Janitorial. Valor Janitorial's green-trained staff helps companies implement practical solutions, like replacing bleach-based and aerosol cleaners with peroxide-based or highly diluted chemical cleaners, training employees on ways to limit landfill waste, and setting up recycling programs, like the ones modeled by the conventions.
Green cleaning makes good business sense. The 2011 Tork Report, Healthy People, Healthy Planet, states that 61% of surveyed U.S. adults would likely patronize a company that follows green practices. The practice is better for employee health, too. According to the Journal of Occupational and Environmental Medicine, 12% of work-related asthma is caused by cleaning products.
Corporations are not only taking notice of green cleaning services, they're taking action. "One of our clients, a major bottling company, has set a goal to recycle 90% of their total waste," says Valor Janitorial's Hayes. "This has been an ongoing and gradual process, with about a 10% increase in recyclable waste each year," continues Hayes. "It's also been a successful one: The corporation is currently recycling about 80% of their total waste."
About Valor Janitorial
Founded in 2005, Valor Janitorial is a privately held Dallas janitorial services company. With a green-trained staff and a line of third-party certified environmentally safe products, Valor cleans close to five million square feet per day, and helps companies implement long-term, environmentally friendly initiatives.