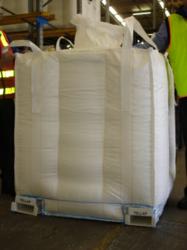 With Tellap technology, certified bag manufacturers and local sleeve fabrication are now well positioned to both serve our customers and take this new step in FIBC packaging to the wider North American market place - Paul Grams
Sodus, Michigan (PRWEB) September 17, 2012
"The ability to manufacture the Tellap sleeve locally in Sodus, MI is a real game changer as it reduces our supply chain costs meaning better pricing for the increasing number of companies benefiting from Tellap. Local fabrication also means faster response to customers and quick delivery across the United States," says Paul Grams, Vice President of Sales at Sun Coast Packaging.
"With Tellap technology, certified bag manufacturers and local sleeve fabrication are now well positioned to both serve our customers and take this new step in FIBC packaging to the wider North American market place," said Paul Grams. "It's great to have a new sustainable product that provides so many benefits for our customers. At Sun Coast our business is built on providing the highest quality packaging for each application. The Tellap FIBC is an innovative package that is ideal for corporations exporting their products. From the feedback so far, customer satisfaction with Tellap is high; it's the right product at the appropriate time."
How does it work? Tellap sleeves are inserted into the proprietary bulk bag forming an integrated pallet. Tellap pallet-free bulk bags are raised from the base, with forklift tines entering the strong, lightweight sleeves. Recyclable and efficient, Tellap provides impressive cost savings in transport, operations and production.
Weighing 90% less than a standard bulk bag and pallet, Tellap is lightweight; easy to use, fully recyclable, needs no ISPM 15 treatment and has none of the shard, splinter, and nail or contamination problems associated with wooden pallets.
The Tellap bag was designed to reduce costs by optimizing storage and transportation of dry granular products like petrochemicals, minerals, pharmaceuticals, agricultural seeds and grains, as well as food commodities and ingredients.
The global pallet-less market is growing at a rapid pace as companies move from the inefficient and costly wooden pallets to more effective solutions. Tellap offers improved space utilization in warehousing, rail cars, trucks and ocean containers. Being raised from the base means these pallet-less bags can be safely stacked in a container or up to four high in a warehouse, depending on local laws. Utilizing this patented design can reduce storage and transportation expenses, while increasing safety, efficiency and sustainability.
With the majority of the globe covered by patents, Tellap ensures customers receive the genuine quality product, as only licensed distributors such as Sun Coast Packaging can offer the Tellap pallet-less system.
Sun Coast Packaging will be attending PackExpo, the largest, most comprehensive processing and packaging event in the world from October 28-31 at the McCormick Place in Chicago, IL Booth 8938. They will be demonstrating the Tellap palletless bulk bag as well being available to discuss all your packaging needs. Sun Coast Packaging, Inc. offers over 50 years of combined packaging experience to better to ensure customers receive the optimal solution for their packaging needs.