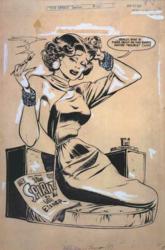 "The League's heritage of educating those who would go on to become this country's great visual storytellers and image-makers is one the League takes great pride in," says League Executive Director Ira Goldberg.
New York, NY (PRWEB) September 13, 2012
This October the Art Students League of New York brings together the work of 60 prominent alumni in the exhibition Celebrating the Line: Outstanding Illustrators, Designers and Cartoonists of The Art Students League of New York.
The League is well known as a training ground of many of America's greatest painters and sculptors. But alumni have also made their marks in popular culture through movie posters, logos, book and magazine illustration, cartoons, fashion, stained glass, caricatures, animation, set design, and even typefaces. The Celebrating the Line exhibition honors the work of these creators.
The exhibition, curated by Pamela N. Koob, runs October 10–November 7, 2012 at the League's Phyllis Harriman Mason Gallery, 215 West 57th Street.
"The League's heritage of educating those who would go on to become this country's great visual storytellers and image-makers is one the League takes great pride in," says League Executive Director Ira Goldberg.
Curator Koob adds, "From Rockwell Kent's dramatic illustrations to Al Hirschfeld's spot-on caricatures, Celebrating the Line looks for the first time at a remarkable group of men and women who have made viewers laugh, fired their imaginations and given form to the heroes and heroines of several generations."
Drawing from the League's archives and private collections, Celebrating the Line includes works from this colorful and illustrious group of artists, all of whom studied or taught at League:
Peggy Bacon, Saul Bass, Louis Bosa, Bonnie Cashin, Charles Chapman, Howard Chandler Christy, Dean Cornwell, Arthur Wesley Dow, Frank Vincent DuMond, Walter Jack Duncan, Harvey Dunn, Will Eisner, Joe Eula, Charles Buckles Falls, Jack Faragasso, Jules Feiffer, James Montgomery Flagg, Max Fleischer, Thomas Fogarty, Dana Fradon, Ramona Fradon, Charles Dana Gibson, John A. Groth, Irwin Hasen, Al Hirschfeld, Jack Kamen, Rockwell Kent, Everett Raymond Kinstler, Alex Kotzky, Dorothy P. Lathrop, Joseph Low, Dora Mathieu, Earl Mayan, Hildreth Meière, Jo Mielziner, Joseph Mirachi, Wallace Morgan, John Cullen Murphy, Bob Peak, Edward Penfield, Joseph Pennell, May Wilson Preston, Ray Prohaska, Frank Reilly, Howard Pyle, Boardman Robinson, Norman Rockwell, Josef Rubinstein, Ann Schabbehar, John Schoenherr, Maurice Sendak, Everett Shinn, John Sloan, Otto Soglow, Albert Sterner, Arthur Suydam, Oldrich Teply, and Art Young.
Here are a just a few of exhibition's highlights:

A video collection of title sequences by Saul Bass, who was the first to recognize the artistic potential of the opening and closing credits of a film
Will Eisner's 1947 pen and ink drawing of "P'Gell," the curvaceous nemesis of "The Spirit" in his comic strip of the same name
Norman Rockwell's portrait of actor Charles Coburn
Jules Feiffer's elegant drawing Top Hat, White Tie and Tails
A sketch of the set for Silk Stockings by famed set designer Jo Mielziner
Three fashion sketches by designer Bonnie Cashin
Early twentieth century literary illustrations by giants in that field including Howard Pyle, Dean Cornwell, Harvey Dunn, and Rockwell Kent.
Gallery hours are Monday–Friday 9 a.m–8:30 p.m; Saturday and Sunday, 9 a.m.–4 p.m.
About The Phyllis Harriman Mason Gallery at The Art Students League
The Phyllis Harriman Mason Gallery at the Art Students League presents a broad range of exhibitions, lectures, and other programming attended by 30,000 people each year. The Gallery exhibits the work of current students and instructors and mounts exhibitions exploring the League's history as well as issues in contemporary art. Recent shows organized by Curator Pamela N. Koob have included WHY THE NUDE? Contemporary Approaches (October 2006) with works by Joan Semmel, Philip Pearlstein, Will Cotton and others; Out There (October 2007), with works in non-traditional media by Chakaia Booker, Gary Hill, Ursula Von Rydingsvard and others; Art from Anxious Times (October 2008), with works by Edward Burtynsky, Joan Fontcuberta, Emily Jacir, David Opdyke, and others; Drawing Lessons: Early Academic Drawings from The Art Students League of New York (October 2009); the centennial exhibition Will Barnet and The Art Students League (October 2010); and 30 Artists/30 Years, an international juried exhibition of alumni artists.
About The Art Students League of New York
Founded in 1875 by artists, for artists, the Art Students League provides affordable studio-based art education of the highest quality to those interested in learning the language of art. Great artists have studied, taught and exhibited at the League throughout its rich history. In addition to studio classes, workshops, public lectures and exhibitions, the League offers a series of professional-development programs including Exhibition Outreach, the Vytlacil Artist-in-Residence program, and "Model to Monument," a new public-arts partnership with the New York City Department of Parks & Recreation.