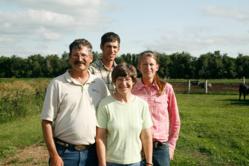 Pierre, S.D. (PRWEB) September 12, 2012
WHAT: Kopriva Ranch tour shows how South Dakota ranchers promote clean water, open space, healthy wildlife habitat and quality food
Tour the Kopriva Ranch to explore the important conservation efforts South Dakota ranchers undertake to enhance the environment and communities
Learn how sound stewardship on South Dakota's ranchlands is helping improve water air, water and grassland quality to benefit people and wildlife
Meet one of South Dakota's leading ranching and conservation families, the Kopriva family, recipient of the 2012 Leopold Conservation Award in South Dakota
Learn about South Dakota's popular Leopold Conservation Award and its celebration of the farmers and ranchers who produce the state's food and improve its natural resources
Enjoy lunch with leaders of South Dakota's ranching and conservation communities
Jim and Karen Kopriva's ranch, which they operate with their son, Lee, and daughter, Angela, is located near Raymond and consists of approximately 2,000 acres. Initially, the Koprivas were grain farmers but made the transition to grassland and hayland over the past decade. Today, just 130 acres are no-tilled and cropped. The remaining acreage consists of native rangeland, seeded pastures and hayland. The Koprivas utilize rotational grazing, which includes cross fencing and water developments, such as two rural water pipelines designed to utilize geothermal heat to provide ice-free water for cattle in remote areas. The family uses controlled burns to combat invasive species. They also graze cover crops and crop residue, taking pressure off of their pastures, reducing costs and dependence on harvested and purchased feed. The Koprivas enhance wildlife habitat on their ranch by leaving some acres on each quarter of their land for wildlife-friendly enhancements.
WHEN: Thursday, September 20
Registration: 9:30 a.m.
Program: 10:00 a.m. to 11:30 a.m.
Complimentary Lunch: 11:30 – 12:30
Rainfall Simulator: 12:30 p.m. – 1:15 p.m.
Ranch Tour: 1:15 p.m. to 4:00 p.m.
Rain or shine
Outdoor attire, including water-resistant footwear, jacket, and umbrella if raining, is recommended
WHERE: Kopriva Ranch
Directions: On Hwy 212, turn North at the Raymond turnoff, go North for 3 miles to 169th Street, turn East onto 169th Street, go East 1 ¾ miles, the ranch entrance is on the south side of the road.
WHO: Led by the Kopriva family. Event attendees include South Dakota landowners and representatives from agriculture, academia, industry, media, government and environmental organizations.
Please RSVP to Judge Jessop, 605-280-0127, jljessop(at)kennebectelephone(dot)com
PARTNERS:
The Leopold Conservation Award in South Dakota is presented by the South Dakota Cattlemen's Association, the South Dakota Grassland Coalition and Sand County Foundation.
The award in South Dakota is sponsored by American State Bank, Belle Fourche River Watershed Partnership, Daybreak Ranch, Ducks Unlimited, Farm Credit, Millborn Seeds, The Mortenson Family, Natural Resources Conservation Service (NRCS), Partners for Fish and Wildlife, South Dakota's Conservation Districts, the South Dakota Department of Environment and Natural Resources, South Dakota Farm Bureau Federation, South Dakota Department of Game, Fish & Parks, South Dakota Grassland Coalition, South Dakota State University Foundation, The Lynde and Harry Bradley Foundation, The Nature Conservancy and World Wildlife Fund (WWF)
CONTACT: Alysa Robbins, South Dakota Cattlemen's Association; (605) 945-2333; communications(at)sdcattlemen(dot)org
###