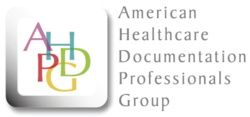 Shrewsbury, MA (PRWEB) September 17, 2012
Victory Media, the premier media entity for military personnel transitioning into civilian life, has named the American Healthcare Documentation Professionals Group to the coveted Military Friendly Schools ® list. The 2013 Military Friendly Schools ® list honors the top 15 percent of colleges, universities and trade schools that are doing the most to embrace America's military service members, veterans, and spouses as students and ensure their success on campus.
"Inclusion on the 2013 list of Military Friendly Schools ® shows the American Healthcare Documentation Professional Groups commitment to providing a supportive environment for military students," said Sean Collins, Director for G.I. Jobs and Vice President at Victory Media. "As interest in education grows we're thrilled to provide the military community with transparent, world-class resources to assist in their search for schools," said Sean Collins. Complete survey methodology is available at http://www.militaryfriendlyschools.com/Article/methodology-press-kit.
"We are thrilled to be named a Military Friendly School by G.I. Jobs for the fourth year in a row," announced Peter Reilly, President and CEO at AHDPG. "This demonstrates the commitment our entire team is making to ensure all students who enroll in our online training programs receive the best education and experience. We believe we are a military friendly school and should be a top choice for the military and military spouses interested in launching an exciting career in healthcare."
Now in its fourth year, the 2013 list of Military Friendly Schools ® was compiled through extensive research and a data-driven survey of more than 12,000 VA-approved schools nationwide. The survey tabulation process, methodology and weightings that comprise the 2013 list were independently verified by Ernst and Young LLP. Each year schools taking the survey are held to a higher standard than the previous year via improved methodology, criteria and weightings developed with the assistance of an Academic Advisory Board (AAB) consisting of educators from schools across the country. A full list of board members can be found at http://www.militaryfriendlyschools.com/board.
For more information on AHDPG's programs and services, visit http://www.ahdpg.com/trainingindex.shtml or call Lynn Calkins, Admissions Coordinator for AHDPG, at 719.404.3449.
ABOUT AHDPG
The American Healthcare Documentation Professionals Group (AHDPG) is a nationally recognized medical transcription outsourcing services and online training organization. Our unique combination of providing outsourcing services to healthcare organizations nationwide and online training programs for individuals looking to move into an exciting career in healthcare ensures our employees; our graduates and our clients are best positioned for success.
We were the first employer owned training and workforce development program approved by the Approval Committee for Certificate Programs (ACCP), a joint committee established by the Association for Healthcare Documentation Integrity (AHDI) and the American Health Information Management Association (AHIMA). We offer online training programs in the areas of: Medical Transcription Editing, Medical Billing, Medical Coding and our newest programs for Medical Scribes or Clinical Information Managers, Clinical Administrative Assisting and Medical Administrative Assisting.
ABOUT Victory Media Inc
Victory Media is a service-disabled, veteran-owned small business founded in 2001. Victory's free, data-driven, Military Friendly ® lists can be found at http://www.gijobs.com/2012Top100 http://www.militaryfriendlyschools.com and http://www.militaryfranchising.com. Victory's lists are also published in G.I. Jobs, Military Spouse, Vetrepreneur magazines, republished in national and local periodicals and are frequently cited on national and local TV stations.