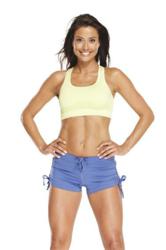 The surging interest in Active Woman and the demand for new more convenient forms of this great nutrition is a testament to the hard work women everywhere are putting into the gym. - Daniel Herman
London (PRWEB UK) 13 September 2012
The Active Woman range will roll out into Boots stores nationwide this week in new individual sachets that will help girls on the go get more out of their nutrition.
The new format of the popular sports nutrition products Activate and Revitalise will be hitting shelves in over 1,000 stores this week to better meet the needs of woman who want to get the most out of their exercise.
"We're tremendously excited to get more smart nutrition into the hands of the women who need it," said Daniel Herman, Bio-Synergy MD and designer of the Active Woman line. "This is just proof that women have high expectations for their nutrition before and after they hit the gym."
The new lines include two exciting single-serve powder sachets; Activate, a pre-workout shake made with a premium protein blend to promote lean muscles and green tea extract to boost metabolism, and Revitalise, an isotonic powder with complex carbs, vitamins, and minerals to pick you up off the floor after a tough workout.
The Active Woman range was developed with the help of Melanie Sykes, who submitted the range to the rigours of a busy mum on the go.
"Over the past couple of years, I have become a serious gym bunny and am far more aware of the importance of a proper nutrition regime," said Melanie. "Working with Bio-Synergy on a range for women who, like me, are serious about working out has been really exciting."
"I would happily recommend the range to anyone who wants to get the best out of their workout and help maintain a healthy regime. And the shakes taste yummy!"
The new individual serving sachets will be available at Boots for only £2.49.