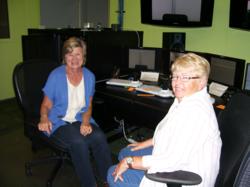 A year later we have produced about 30 shows and air them on LTV-EH, and Cablevision, L.I. at Riverhead, Islandia and Woodbury. Frank's guests include authors of all genre.
Massapequa Park, N.Y. (PRWEB) September 18, 2012
For the past year, producer, Linda Maria Frank and her team have been giving authors a voice for their books. As producer of the show, Frank, herself a YA mystery writer, has given authors a forum to talk about their books, and to provide a special feature they can include as a marketing tool on their websites and social media to present their work to the reading public. The possibility of using a local access TV station in East Hampton to record a show for authors came about serendipitously at an event at the library in Riverhead, L.I. After investigating the concept, and the venue, which entailed getting an East Hampton sponsor, Frank decided to form a team, and dive in. She needed a director, people who were not afraid of the technical aspects of the studio, and a host to interview the authors. Coming up with a theme and general script for the show, and training on the use of the studio equipment, became, not only necessary to producing the show, but an essential commitment on the part of the team. Yes, cameras and director's controls, lots of switches, joy sticks, buttons and little red lights are now part of the smooth running production of The Writer's Dream. The training was interesting and well organized. The staff helped us to learn every aspect of the resources at LTV we needed to know to produce a show on DVD that we could air on LTV-EH, and take with us to other stations. We could put it on Youtube, facebook and our websites. A year later we have produced about 30 shows and air them on LTV-EH, and Cablevision, L.I. at Riverhead, Islandia and Woodbury. Frank's guests on The Writer's Dream include authors of all genres, from children's books to self-help, mysteries, historical novels, and memoirs. Entrepreneurs associated with book ventures, representing many aspects of publicity and marketing, have appeared on the show. Authors are self-published or traditionally published. The future of The Writer's Dream includes posting "tips" for new authors on the facebook page of the same name, as well as answering questions from viewers. This next year will include shows featuring organization authors join, such as Long Island Authors Group, Long Island Children's Writers and Illustrators, and Sisters in Crime. Frank also plans a "Where Are You Now" show for former guests.
About The Writer's Dream: It is a local access TV show providing a forum for authors of published works to provide information about the world of writing publishing and marketing, as well as the events they do to promote their work. The team is dedicated to providing accurate and interesting information about the writing profession and authorship. The show is produced by Linda Maria Frank, author of "The Madonna Ghost", and" Girl with Pencil, Drawing". The production team includes host, Karen Bonnet, author of "Whale Island and the Mysterious Bones", host, Dina Santorelli, author of "Baby Grand", and director, Genevieve Lee. Joe Satriano, author of "In Sickness and in Health, a Memoir of Love", is second director and camera man.