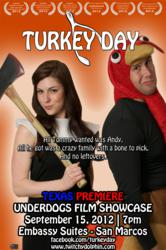 UnderDogs Film Showcase - San Marcos
Saturday, Sept. 15 • 11am - 11pm
Standard All-Access Pass: $20.00
(PRWEB) September 13, 2012
Written, directed, and edited by Houston native and University of Texas graduate James Christopher, Turkey Day is a hilarious look at one's family's struggle through one of the most stressful holidays of the year – Thanksgiving.
In Turkey Day, Natalie Wilemon stars as Andi, a young woman who impetuously marries Tommy (Colby Wallingsford), leaves him and returns home, only to find out that she's pregnant with his child. Conflict arises as Tommy follows her home, only to be greeted by an over protective family that takes out their other issues on him. Terissa Kelton plays Charlie, the baby of the family who's just returned home from an eye opening trip abroad. Benjamin Jabe stars as Ned, the nerdy older brother that lives at home with more than his share of secrets while Ashely Serrao takes a turn as Kelly, a single mom struggling with her ex-husband and his luke-warm approach to parenthood.. Conrad Gonzales and Allison Wood play a couple of parents who struggle to keep the peace in their home.
Behind the camera, Twitchy Dolphin returns a dynamic team that has won over 40 film festival awards in the last three years, led by cinematographer Chris Copple and executive producers Nathan Bybee and Jessica Bybee-Dziedzic.
Twitchy Dolphin is honored to be a part of this year's Underdogs Showcase. The director, James Christopher and the majority of the cast and crew will be on site and are available for any and all press opportunities.