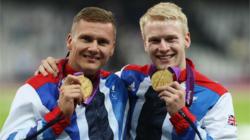 Our target in London was to finish top eight in the athletics, which meant five to eight golds and thankfully we've exceeded that
(PRWEB) September 12, 2012
Great Britain came off the track with a disappointing two gold medals at the end of the athletics events at the Beijing Olympics, both of those around the neck of David Weir.
The 33-year-old Weir alone beat that tally in London but, while the man dubbed the "Weirwolf", has been the star of these Games, his glory run has been far from a solo effort.
In all, the Paralympic hosts won 11 golds, seven silvers and 11 bronzes in athletics. In so doing, recognition for the likes of Weir has gone through the roof.
Similarly, Jonnie Peacock and Hannah Cockroft have been adopted into the public conscience with their world-beating performances. And it was impossible not to get caught up in all the stories, such as that of gold medal winner Josie Pearson, whose discus triumph came after a car crash which resulted in the death of her boyfriend and left her with a broken neck and spinal damage.
But Britain's success in athletics has not come overnight. UK Sport funding via the National Lottery was integral in getting the athletics team its 17 medals at the previous Games in Beijing, and further funding (the Paralympic athletic set-up was given £6.7million in the last four-year cycle) has reaped the rewards.
But money doesn't always buy success and much of the escalation in success is down to Peter Eriksson, the head coach of UK Athletics' Paralympic programme since February 2009.
Like his equivalent for the able-bodied athletes in the UK - Charles van Commenee - Swedish-born coach Eriksson does not suffer fools gladly.
Triple Canadian Olympic gold medallist Jeff Adams talks of fighting with his former coach in the build-up to the Sydney Games and disagreeing with virtually everything he said.
Adams recalls: "I was wrong and, during that entire time, I did what he told me only because I trusted him so much. I trusted my coach. You have to go all in and that trust has to be there 100%."
Working with Van Commenee, Eriksson has been able to get better and better coaches involved in the programme, including the American Dan Pfaff, who has overseen the progress of Peacock among a training group that includes Greg Rutherford, who won gold in the Olympic long jump event .
Eriksson is a modest man who, like any good coach, stays behind the scenes. But the reality is that he is the most successful Paralympics coach in history, working with the likes of Adams and 14-time gold medallist Chantal Peticlerc before joining the UK set-up.
Experts, including Peticlerc, have been enlisted to mentor the younger British athletes in particular, and Eriksson likes to pass the credit elsewhere.
"UK Sport have given us money to perform better and we needed to live up to that investment," he said. "It's gone really well and I think we've all upped our game. Our target in London was to finish top eight in the athletics, which meant five to eight golds and thankfully we've exceeded that."
Thankfully, for Britain's up-and-coming athletes, of which Jade Jones, Sally Brown and Paul Blakeare but a few for the future, Eriksson has been talking about Rio de Janeiro and the suggestion is that - unlike the departing Van Comenee - he will stay put in the post for 2016.
Weir seems unlikely to carry on until Brazil, leaving a big void in men's wheelchair racing.
But unlike four years ago, the ParalympicsGB athletics squad is no longer so reliant on Weir for gold medal success and will look ahead to Rio with expectations of further success.