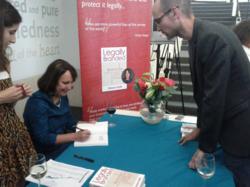 I wrote the book because I believe every business deserves the best possible chance to succeed'- Shireen Smith
London (PRWEB UK) 13 September 2012
Legally Branded is a new title written by Shireen Smith. It fills a gap in the market by providing accessible, easy to understand explanations about branding, intellectual property and brand law for entrepreneurs and business owners. Now on general sale, and available to order through Amazon, the book offers practical guidance to help businesses to sidestep all manner of common legal problems and pitfalls in business.
Introducing the book to guests at the British Library on 11 September, Shireen Smith explained:
"What stands in the way of businesses achieving success in the competitive global environment, is understanding what a brand is, and what is involved to achieve effective branding. Getting a brand that helps distinguish your products and services so the business proposition succeeds and meets the needs of its target customers involves a number of different disciplines. That is how to go about creating an enduring brand that positions the business for maximum chances of success."
The world's top brands are built on solid foundations because they have access to the necessary expertise, and know how to manage their Intellectual Property. In writing Legally Branded, Shireen's aim was to make the same insights available to smaller businesses too.
Among other things, the book explains how to avoid spending money chasing the wrong branding solutions and legal protections.
For example, people assume patents are the most important IP to protect. Without the right advice early stage businesses risk mismanaging their IP budgets, for example, by spending too much on patenting, even though their brand and copyrights are unprotected. There are alternative ways to protect the ideas embodied in a patent.
Shireen Smith explained that writing the book has helped her to appreciate that branding and intellectual property are minefields for small businesses. Despite the fact that IP issues should be addressed early on in a branding project, there is a widespread tendency in the branding industry for the legal aspects of branding to be left till the branding work is completed. Taking account of IP when choosing names, images, music, and other brand elements is how a business creates a brand that can stand out, said Shireen. Therefore, Azrights will in future offer branding consultancy as well as intellectual property services. Its brand consultancy service will help project manage branding for entrepreneurs and business owners so they achieve a joined up brand with minimal wasted expenditure. Azrights will collaborate with branding service providers such as marketing, advertising, design, and digital agencies so as to offer the most pertinent branding service for any given client's needs. Visit the Azrights website to find out more about the important role played by branding consultants.
The launch event was sponsored by Azrights Solicitors, an Islington law firm founded by Shireen in 2005. Azrights specialises in intellectual property, IT and brand law, and were delighted to feature Professor Jeremy Phillips as a speaker at the event. Jeremy, a Professorial Fellow of the Queen Mary Property Research Institute, and co-founder of the popular IPKat blog, said 'the book should be bought and read and appreciated by even those who don't pick up the phone and thank [Shireen] for it'. Tibor Gold, honoured in 2007 with an MBE in recognition of his services to intellectual property, also spoke, and said that he had read the book describing it as 'magnificent'.
A fantastic performance by George Hardwick wrapped up the speeches before guests got their hands on the first batch of Legally Branded, signed by the author herself, and continued the discussion late into the evening.
To allow a greater number of people to enjoy the launch, even if they were unavailable to attend in person, a virtual launch is taking place on 12-13 September. Highlights will include videos and photographs from the event at the British Library, and a quiz. Find out more about the book, by Liking Legally Branded on Facebook.
Legally Branded has its own website at LegallyBranded.co.uk and is now available to order online through Amazon here.