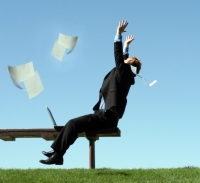 Sales outsourcing can provide a sales recruitment model for the economic recovery process
Wilmslow, Cheshire (PRWEB UK) 13 September 2012
"Sales Directors are fed up having empty territories, a base of accounts that aren't being managed and left vulnerable to competition, and ultimately targets that are unachievable as the quota is not being carried out by a sufficient number of sales people," Pareto Sales Director Mark Lendon observes, "And given the current economic climate, it's a business challenge many can ill-afford. We wanted to demonstrate how the marketplace can push towards business development without taking unnecessary risk."
The concept of 'benching', or sales outsourcing, has been used as a sales recruitment model in the States for years. Having a sales superstar trained up, off headcount and waiting in the wings to step up to any business challenge is a concept the UK could benefit from, with every recruit coming with full sales training and business knowledge to guard against the pitfalls that come hand-in-hand with traditional telesales solutions.
Sales outsourcing could serve not only as a safety net for when resources fall short, but also as a reserve option for when prospects improve, Mark Lendon explains.
"If a potential opportunity arises and the business need is focused around generating more sales, but you have a headcount freeze or you're concerned about the risks, sales outsourcing can provide a flexible sales recruitment solution without long-term commitment or additional numbers on your headcount. It's a win-win for business."
The UK double recession leaves the business marketplace in a precarious position when it comes to sales development. It remains unclear where the market will be in a year or even two, but to lose out on potential growth through lack of resource is simply bad business. Sales outsourcing could enable UK businesses to take a step forward without taking two steps back, providing a sales training and sales recruitment model for the economic recovery process.
To read more, download your copy of the white paper, 'On the Bench: Bring in the Sales Reserves'
About Pareto:
Pareto is the UK's leading graduate sales recruitment, sales training and sales enhancement company, specialising in helping thousands of companies around the UK and abroad to enhance and develop their sales. The company believes that 80% of sales often come from the top 20% of the sales team. Pareto aims to provide this top 20% through a mix of rigorous assessment and professional training.
Pareto delivers sales excellence through its four key elements – Sales Recruitment, Sales Training, Executive Recruitment and the newly launched Accolade service, an assessment and accreditation package designed to enable companies to raise the calibre of their existing sales teams.
Pareto was voted 'Sales Recruitment Agency of the Year' at the National Sales Awards. The company is also a past winner of the Sunday Times Best Small Company to Work For award, and is accredited with the Investors in People standard.
In 2008 Pareto formed a partnership with the Randstad Group, the world's second largest resourcing and staffing organisation.