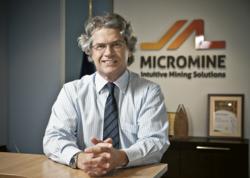 Managing Director, Mr. Graeme Tuder explains, :We are really thrilled to have secured Kevin's experience as our new CEO."
Perth, Australia (PRWeb)
September 2012 (PRWEB) September 13, 2012 -- Leading software and solutions provider, MICROMINE, has appointed current Chief Operating Officer, Kevin Fitzpatrick, as its new Chief Executive Officer (CEO).
Mr Fitzpatrick joined MICROMINE in 2008 as Chief Financial Officer. In 2010, he accepted the role of Chief Operating Officer following MICROMINE's company restructure. Commenting on his appointment, Mr. Fitzpatrick says, "Being appointed as CEO for MICROMINE is a great honor. After 4 years with the company, I have seen it grow and expand at an exponential rate. I am excited at the prospect of continuing this growth and extending the reach of MICROMINE's world class solutions."
Prior to joining MICROMINE, Mr. Fitzpatrick spent 4 years with Calibre Global, where he was Chief Financial Officer and Company Secretary.
MICROMINE'S Managing Director, Graeme Tuder explains, "We are really thrilled to have secured someone with Kevin's experience as MICROMINE's new CEO. His experience is a tremendous asset to the company and we look forward to being able to pass this on to both our staff and clients."
Mr. Fitzpatrick has a Bachelor's Degree of Science, Diploma of Education, Bachelor's Degree of Commerce and is a member of the Institute of Chartered Accountants and Institute of Company Directors.
Mr. Fitzpatrick's appointment is effective immediately. He will be at MINExpo meeting with clients and prospective clients.