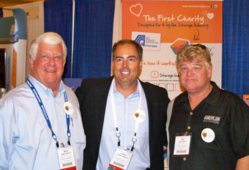 These are such worthy causes and present a great way for the self storage industry to give back.
Las Vegas, Nevada (PRWEB) September 12, 2012
Being a winner is everyone's dream when they come to Las Vegas and for Charity Storage, it was a winning three days at the Self Storage Association's Fall Conference & Trade Show, September 5-7 at Caesar's Palace. It started with Charity Storage co-founder Lance Watkins' strong presentation on a special panel devoted to auctions in self storage, continued with Storage Wars auctioneer Dan Dotson and his wife Laura appearing at the Charity Storage booth at the trade show, then finished in winning fashion with "The Collector," Barry Weiss, joining the Dotsons at the SSA's Welcome Reception.
It added up to Charity Storage being the talk of the town…or at least the talk of the self storage industry. Thanks to Watkins' ability to enlighten the huge crowd on hand to watch the discussion surrounding the pros and cons of today's auction process (and the effect that Storage Wars has had on those auctions), more people in the industry are aware of Charity Storage than ever before.
"I came in with the hope that we would be able to spread the message about the positive side of self storage auctions and in the process, let people know about Charity Storage," said Watkins, co-founder of Charity Storage along with Barry Hoeven, Chairman of Westport Properties/ US Storage Centers. "Having Dan and Barry on hand from Storage Wars showed that they are solidly behind Charity Storage, as well. I felt very good about the impact we had in Las Vegas and now we will to continue to spread the word throughout the industry."
Charity Storage (charitystorage.org) was created when Watkins and Hoeven saw the popularity of self storage auctions grow and realized that the self storage industry could give back to society through special auctions whose proceeds go to local and national charities. The net proceeds from the sale of each unit at a Charity Storage auction are split three ways -- the Self Storage Association Foundation (which provides scholarships to students who are related to self storage professionals) receives 10 percent, Kure It Cancer Research (http://www.kureit.org) receives 30 percent, and the individual facility chooses a local or national charity to receive the remaining 60 percent.
"I think we had a very strong presence at the SSA gathering," added Hoeven. "We were able to garner a great deal of attention for Charity Storage, as well as for Kure It Cancer Research. These are such worthy causes and present a great way for the self storage industry to give back."
For Watkins, who also founded Storage Treasures to help promote self storage auctions across the country, it couldn't have been a better three days. "I felt as if we were dealt a winning hand in Vegas. Now I hope that self storage facilities across the country will join in to host Charity Storage auctions. Then everyone is truly a winner."
Charity Storage is a 501(c)(3) nonprofit recognized as tax exempt by the IRS. Federal Tax ID# 45-3253579. For more information, visit charitystorage.org or E-mail info(at)charitystorage(dot)org.