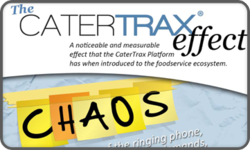 We lived the chaos of running a catering business without a software system like the CaterTrax Platform. That's why we created it." - Rich Rund, CEO / Co-Founder
Rochester, New York (PRWEB) September 13, 2012
The Chaos infographic combines data with engaging images to reveal how catering businesses lose time, money, employees, and customers. This is the first in a series of infographics that will illustrate The CaterTrax Effect; the company's interpretation of a business maturity model. As this new infographic demonstrates, CaterTrax understands the cost of chaos to catering businesses.
"We lived the chaos of running a catering business without a software system like the CaterTrax Platform. That's why we created it" said Rich Rund, CaterTrax CEO / Co-Founder. "When we implemented the platform at our own catering business back in 2000, the focus was on getting control of our back-of the-house operations."
Chaos is the state in which the majority of its clients come to CaterTrax. The CaterTrax effect is a noticeable and measurable effect that the CaterTrax Platform has when introduced into the foodservice ecosystem. The concept of the model emerged as the company compiled data proving that its Catering Module increases revenue, on average, 15% year-over-year.
"In addition to revenue increases, our clients also report a noticeable improvement in profitability within the first year. One of the biggest and most immediate impacts our platform has is that it organizes all aspects of the back-of-the-house operations. This allows operators to stop wasting money on over-scheduling staff, over-ordering of food and supplies, and issuing 'customer service refunds' due to miscommunications." said Dan Welch CFO / Co-Founder. "What we've determined is that as our clients mature after this initial positive impact, they're using their system to not only streamline operations and increase accuracy, but also analyze the data tracked in their system and make much more strategic business decisions."
With Chaos as its starting point, the phases of The CaterTrax Effect are Control, Measure, Prosper, and Scale. CaterTrax will be releasing its model one infographic at a time over the next few weeks and months.
About CaterTrax
CaterTrax is an industry-leading SaaS company specializing in foodservice management software. The company was started with a core mission: to improve the lives of foodservice professionals. Created by caterers for caterers, the CaterTrax Platform was born out of years of industry experience. The software was initially developed to run the family catering business more efficiently. Since its formal launch in 2000, thousands of sites have implemented CaterTrax solutions in a variety of industries across North America.
CaterTrax allows its clients to implement custom solutions by offering a suite of highly configurable modules that seamlessly integrate together. The platform helps users promote, grow, manage, and sustain their businesses by streamlining back of the house operations and driving more business to the front. Regardless of market segment, in CY 2011, clients on average had a 15% growth in sales revenue, number of orders, and order size after implementing a CaterTrax solution.