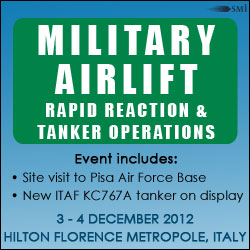 The largest bespoke Military Airlift conference in Europe
Florence (PRWEB UK) 13 September 2012
SMi are proud to announce their 13th annual Military Airlift conference taking place 3rd-4th December 2012 is set to be the most exciting event to date.....boasting a 75% new speaker line-up this year will feature unrivalled NATO participation, new Italian military speakers along with speakers from Spain, France and Bulgaria and will draw attendances from most major multinational airlift commands in Europe!
New speakers and nations added to the 2012 programme include:

Brigadier General Aurelio Colagrande, Commander, 46th Air Brigade, Italian Air Force
Colonel Giorgio Seravalle, Chief of Air Operations, Air Mobility Command, Italian Air Force
Brigadier General Miguel Angel Villarroya Vilalta, Deputy Director, European Air Group, Spanish Air Force
Lieutenant Colonel Angelo Montinaro, Logistics Director, European Air Group, Italian Air Force
Major General Pascal Valentin, Commander, European Air Transport Command, French Air Force
Lieutenant Colonel Metodi Metodiev, EDA Project Officer Deployability, Bulgarian Armed Forces
SMi's Military Airlift has a proven track record of bringing together the key players in the allied supply chain for airlift solutions and operational experts and we are confident that this year's event will be THE strongest commercial networking event available to attend in 2012.
In addition - Don't miss the Pisa Air Force Base site visit
The Italian Air Force have kindly arranged for a display of the new KC767A tanker for all delegates attending the conference. The visit will also include displays of the C130J and C27J aircraft. Delegates are also invited to visit the ITAF National Training Center and the C130J/C27J simulators at Pisa. Places are selling out so secure your place today!
For the full conference programme and event details please visit: http://www.military-airlift.com
Book today and save £100! Register online or contact Teri Arri: +44 (0) 20 7827 6162 / tarri(at)smi-online(dot)co(dot)uk
Military Airlift is just one of the many conferences that are a part of the SMi Group portfolio.
The SMi Group is a highly Professional, Independent and Global event producing company that specialises in Business to Business Conferences, Workshops, Masterclasses and Online Communities. We create and deliver events in Defence, Security, Energy, Utilities, Finance and Pharmaceutical industries. Our aim is to provide you with the highest quality events in Defence, Security, Energy, Utilities, Finance and Pharmaceutical sectors, which are timely, relevant and important to you and your company!
For further information, contact:
Teri Arri
Tel: +44 (0) 20 7827 6162
Email: tarri(at)smi-online(dot)co(dot)uk