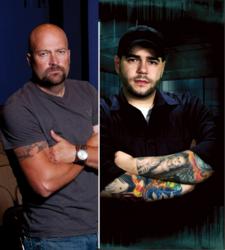 "Whether you believe in paranormal activity or not, we foresee a winning and frightfully fun opportunity for casino guests looking to meet two of reality television's most enduring and friendliest faces," said Michael J. Broderick
Hollywood, Florida (PRWEB) September 13, 2012
Fans of otherworldly phenomena can get their reality fix at Seminole Casino Hollywood on Saturday, October 6 when South Florida's original place to play presents a free meet and greet with Jason Hawes and Steve Gonsalves from SyFy's longest-running paranormal program, Ghost Hunters. The spirited duo will be signing free autographs and posing for photos from 6 - 10 p.m.
Contact between humans and spirits from the afterlife is not as far-fetched as is it seems. Jason Hawes, Steve Gonsalves and their team have worked to track down the presence of paranormals across the country.
As a leader and co-creator of The Atlantic Paranormal Society (TAPS), a group of fairly ordinary people fearlessly working to understand seemingly unexplainable disturbances, Jason Hawes has made it his life's mission to help anyone with questions pertaining to paranormal phenomena and ghost hunting. Hawes' own highly personal paranormal experience prompted him to do more than wonder about an afterworld; he launched TAPS from a spare room of his apartment. While Hawes enjoys chasing ghosts, he also loves spending time with his kids, deep-sea fishing and writing screenplays— he has written four sci-fi/thriller stories.
Steve Gonsalves is the TAPS technology manager and evidence analyst. It is his responsibility to train all TAPS members on how to use and maintain the team's wide range of high-tech equipment. He also oversees all TAPS investigators, technical advisors and investigators-in-training. Gonsalves has been a public speaker and educator about paranormal phenomena for more than 10 years. He is also the co-founder of the TAPS publication, Paramagazine.
"Whether you believe in paranormal activity or not, we foresee a winning and frightfully fun opportunity for casino guests looking to meet two of reality television's most enduring and friendliest faces," said Michael J. Broderick, director of marketing and promotions for Seminole Casino Hollywood. "Perfectly timed to kick-off Halloween festivities, our Ghost Hunters free meet and greet is the newest entry in our on-going reality star showcase series."
Group passes are required to meet Jason Hawes and Steve Gonsalves and will be available starting at 5 p.m. at the Player's Club. Must be 21 and older and a member of the Seminole Player's Club to participate in the meet and greet.
About Seminole Casino Hollywood
Seminole Casino Hollywood pioneered Indian gaming when it opened as the country's first large stakes bingo hall in 1979, eventually expanding with gaming machines and poker. It is now home to over 1,250 state-of-the-art slot machines such as Diamond Lotto, the Seminole exclusives Super 6 Lotto, Grease and Michael Jackson King of Pop, plus hot titles including Sex & the City, Wizard of Oz, Lord of the Rings, Wheel of Fortune and Monopoly; a non-smoking 10-table poker room featuring free drinks and no-limit high stakes games 24/7; table games including Three Card Poker, Spanish 21, Mini-Baccarat, War, Ultimate Texas Hold 'em and Pai Gow Poker and a high stakes bingo room. Seminole Casino Hollywood also features a full service bar, two delis, and an all-you-can-eat buffet restaurant open for breakfast, lunch and dinner. Seminole Casino Hollywood is located at 4150 North State Road 7, Hollywood FL 33021, just north of Miami and south of Interstate 595. For more information, please call 1-866-2CASINO or 954-961-3220 or visit http://www.seminolehollywoodcasino.com or http://www.facebook.com/SeminoleCasinoHollywood . Follow us on twitter at @SemCasinoHolly .