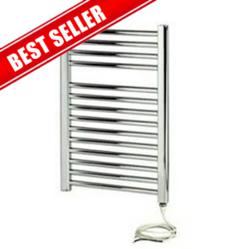 Products You Can Count On From People Who Care
North Yorkshire, UK (PRWEB UK) 13 September 2012
With increasing global warming, countries in United Kingdom experience colder winters. Earlier, it was possible to avoid warming equipments, but now they are a necessity. Towel Radiators are such heating equipments, ideal for colder climates. Heated towel rails offer warm and fluffy towels post a warm shower, a must in long cold season. CNM Online presents an extensive range offering branded towel radiators, which are not only efficient but also easy on pocket. This extensive range suits diverse needs and budgets of the customers in United Kingdom. CNM Online has everything, be it standard electric radiators, to filled ones, and even the newly introduced fancy and designer ones from many leading brands. Besides keeping cold towels dry, towel warmers tend to be multipurpose. These radiators help dry delicate and hand-washable articles. This wonderful appliance is far better than the regular dryer is, and is ideal for lingerie, sweaters, pantyhose, etc.
Sharing the reason for introducing the new range of towel radiators, Senior Spokesperson at CNM Online says, "We offer high-end functional radiators that add beauty to the bathrooms. Many prefer radiators for keeping towels warm for using them post a shower. We have been advising our customers for installing towel rail in their bathrooms to avoid using cold towels in freezing season. The reason being that using cold towels post a warm shower might lead to cold and cough due to opposite temperature."
Regular dryers can prove harmful for delicate items, reducing their lifespan. People can easily pass heritage linen tablecloths to their next generation while using these radiators. Regular dryer can also damage bathing suits on multiple uses. Heated rails for towel help keep bathing suits dry and fluffy, giving them a brand new look every time. At times, bathrooms do not have proper ventilation, which leads to permanent wetness. This might also result in formation of fungus. Towel radiators help reduce wetness in bathrooms. The heats generated by these radiators prevent the formation of mildew in cold environments.
Senior Spokesperson at CNM Online continues, "Radiators at CNM Online are an ideal match for winter wear. Winter wear like sweaters, shawls, etc. lose their shine when dried in regular dryers. Radiators for towel help dry winter wear quickly and efficiently. When heading for an outing in winter, people can utilize these radiators for making their winter coats warm and fluffy. These radiators free clothes from mildew, and are easy to operate even for children. Get a toasty warm towel, dry your delicate clothes, and warm your bathrooms, etc. with the newly introduced radiators on CNM Online. Available in various designs, styles, and budgets, there can be nothing more useful than these radiators."
About CNM Online
CNM Online is a family run business founded in 2004. The site has more than 200,000 customers and believes in offering solutions rather than products. The largest supplier of heating products for home, CNM Online offers a range of efficient and affordable solutions.
For more, visit http://www.cnmonline.co.uk