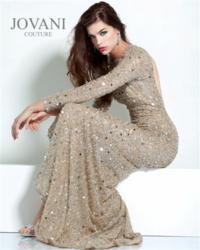 It [Brooklyn] has become an epicenter for all things creative, such as art and fashion
New York, NY (PRWEB) September 13, 2012
Summer may be over, but there's a lot to look forward to this fall season. Last Thursday's Fashion's Night Out event was the official kick-off for the most exhilarating time of year—the New York Mercedes Benz Fashion Week for Spring/Summer 2013. It's easy to get crazed in the midst of vibrant lace garments and body-hugging silhouettes boasting up and down the runway, and just when the anticipation fades… Jovani Fashions announces that it plans to present in this year's BK Fashion Week (BKFW) a small collection runway show in Sunset Park on Friday, September 28th.
The evening designer, who plans to show in the upcoming New York Fashion Week for Fall/Winter 2013, chose to pursue a different opportunity this year. This is the first time Jovani will put on a runway show beyond its Manhattan frontier. The fashion house will also be paying homage to their design studio, which is situated in Brooklyn. "It [Brooklyn] has become an epicenter for all things creative, such as art and fashion. Many industry people that we work with either live or spend a lot of time in Brooklyn, and it's nice that we can take our designs outside of Manhattan," says Jovani Fashion's president & CEO.
The BKFW S/S 2013 runway shows will highlight the top emerging designers in the fashion industry including local, national and international designers, over the course of four days in Brooklyn. Not to mention, part of the proceeds from ticket sales will go towards a number of philanthropic organizations led by the Brooklyn Style Foundation (BSF).
The runway shows will feature Eco-friendly designers, ready to wear and couture designers. Jovani will be showcasing a mix of intricate couture pieces and in-trend styles for the upcoming season. Editors and stylists will have the opportunity to meet with Jovani's head designer and request pieces from the upcoming collection.
The event will include a special half-hour cocktail reception and silent auction at 7 pm, followed by a collection of couture shows and designer appearances. An exclusive Red Carpet Celebrity reception will be held for those with coveted VIP tickets. The space is limited and the guest list is super exclusive, so unless you're invited as a VIP guest or a member of the fashion elite—all bets are off. With Jovani's extensive resume and strong Hollywood following, scoring a ticket to the celeb-studded affair seems close to impossible.
Company Profile
Jovani Fashions is a New York-based fashion house that designs and manufactures luxurious evening dresses and couture gowns. The world-renowned brand sells to over 3,000 specialty stores worldwide, including major department stores such as Neiman Marcus, Nordstrom and Bloomingdales. Jovani offers an extensive collection of evening gowns, bridal and chic cocktail dresses, in addition to their embellished couture designs. Jovani dresses are a favorite among A-list celebrities and editors, and they can be seen all over the red carpet and inside the pages of high-fashion editorials.
Contact: Lianne Gourji
Phone: (212) 279-0222
# # #