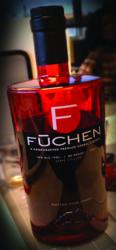 "From consumers to bartenders and wait staff, the name Fῡchen brings out the creativity in everyone, sparking their imaginations to run wild," said Mark Rehrberger, Fuchen brand manager.
Littleton, Colo. (PRWEB) September 13, 2012
Fῡchen continues to rake in the gold after winning yet another gold medal for best herbal liqueur in its category at the 2012 MicroLiquor Awards. Last year it won gold for best spirit overall, best in division and best in category at the 2011 Los Angeles International Wine and Spirits Competition.
MicroLiquor Spirit Awards is the world's first spirits competition for small brands selling under 50,000 9-liter cases annually. The 2012 MicroLiquor Spirit Awards attracted an astounding 263 entries from around the world. An exclusive nine percent of entrants won triple gold medals, recognized as having both extraordinary taste and extraordinary packaging and design.
Fῡchen is a European-inspired but made-in-America drink. It is a sophisticated mingling of vanilla, cinnamon, and various aromatics that hold true to its classic German heritage with a blend of select secret ingredients to yield a bold, yet smooth taste without the harsh bitters and lingering heavy after taste like others in the category. Crafted with an artisan's touch and bottled in small batches, Fῡchen is handcrafted to ensure a smooth, rich, bold flavor with a higher proof and clever, complex, premium flavor.
"Fῡchen is just what consumers have been waiting for," said Mark Rehberger, brand manager for Fῡchen. "From consumers to bartenders and wait staff, the name Fῡchen brings out the creativity in everyone, sparking their imaginations to run wild. We laugh out loud reading the creative drink recipes posted on our Facebook page, which are inevitably communicated with humor. Let's face it – it's Fῡchen-awesome!"
With its 750ml sleek, upscale and eye-grabbing proprietary red glass bottle and its "now that we're all grown up, step up to Fῡchen" positioning, Fῡchen is the new, hot rising star in the herbal liqueur category. http://www.fuchen.com