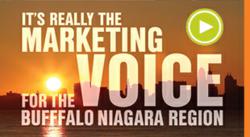 "There is excitement about investing in the region and good reason to invest in the BNE as well. We couldn't ask for a better way to enter 2012-2013"
Buffalo, New York (PRWEB) September 14, 2012
>Buffalo Niagara Enteprise Annual Report
>Invest in Buffalo Niagara Video
Buffalo Niagara Enterprise (BNE) announced their 2011-2012 results at their 13th Annual Meeting today. In releasing their annual win, investment and jobs numbers, BNE officials expressed that the positive results mirror the excitement and momentum that has taken place across the eight-county region over the last eighteen to twenty-four months.
"For the second consecutive year Buffalo Niagara Enterprise met our goals for project wins and jobs created, while shattering our project win investment numbers," said BNE Board Chairman Randall L. Clark, Chairman of Dunn Tire, LLC. "These are tremendous accomplishments in a very challenging economic development environment that our investors and the community-at-large can all be proud of," Clark continued.
Buffalo Niagara's primary research, marketing, business and economic development organization, the BNE reported 12 project wins for the fiscal year that ended June 30, 2012. The company wins have pledged to invest a combined $225,624,000 in the region. In addition to the impressive investment numbers, the project wins are retaining 337 jobs while committing to create another 473 for a total positive job impact on the region of 810.
"It is an incredibly competitive marketplace right now with a growing number of communities around the globe fighting for a shrinking number of expansion and investment opportunities in the current economic climate," said BNE President & CEO Thomas A. Kucharski. "I believe we are succeeding because of the foundation that has been laid over the last 13 years and the course that we have charted over the last two to three years. We've been smart, we've been nimble, and thanks to our investors we have been resourced to be able to effectively carry a compelling message to our targeted audience," Kucharski continued.
Both Clark and Kucharski pointed to a deeper analysis of BNE's results as validation of its greater influence on the region. The total economic impact of the 12 project wins exceeds $193 million, while the $44,142 average salary of the jobs pledged to be created exceeded the average salary of jobs across the region. To add greater perspective, the total economic impact is 107 times that of BNE's current operating budget.
"Those numbers represent an impressive return on investment of our investors resources, and they are proof that the BNE's collaborative approach to economic development is succeeding in bringing quality projects to the region that are creating good jobs and opportunities for residents of our community," Clark added.
The 12 wins reported are spread across five of the region's seven targeted industry clusters, a fact that Kucharski says reaffirms the growing diversity of the local economy while validating the work of BNE's research department as they refine industry sub-sectors and identify targeted companies.
Foreign direct investment and advanced manufacturing were two primary drivers behind BNE's win totals last year. Six of the 12 wins were advanced manufacturing projects, and 9 of the 12 had an international attraction component, including the Muller Quaker Dairy project that went to the Genesee Valley Agri-Business Park in Batavia. Formerly known as Project Wave, Muller Quaker Dairy LLC is a partnership between PepsiCo and German based Theo Muller group. The yogurt production plant is BNE's signature win of the year with $206,000,000 in investment and the creation of 186 new jobs.
The project was featured in a new video that was unveiled at the meeting promoting the region's agribusiness successes and assets, and is an extension of the "A Million Reasons" advertising campaign. A highlight of the 2011-2012 year, the campaign was designed and launched by BNE's marketing department and consisted of a wide variety of tactics and initiatives that engaged BNE investors and economic development partners. Included was a five-part "A Million Reasons to Expand Your Business to Buffalo Niagara" video campaign that used area businesses and business leaders to promote the region's selling points.
"Agribusiness has provided our region with two extremely impactful projects over the last 24 months thanks to the quality of the shovel ready Genesee Valley Agribusiness Park in Batavia," said Kucharski. "We'll continue to promote this regional asset in the coming year, and based on the strength of our Canadian and advanced manufacturing activity, this market and sector will also be a primary focus for us moving forward," he added.
Prominently mentioned among the BNE's contributions over the last year was their involvement in the Western New York Regional Economic Development Council and the "Buffalo Billion" initiative announced earlier this year by Governor Andrew Cuomo. BNE staff contributed more than 400 man hours of expertise to the development of "A Strategy for Prosperity in Western New York", one of only four best plans state-wide that resulted in $100.3 million being awarded to Buffalo Niagara region projects last December.
Similarly, BNE conducted research and analysis in conjunction with the University at Buffalo Regional Institute and Brookings to support the Buffalo Billion initiative, contributing more than 200 man hours to the project.
"I believe very strongly that the results and initiatives we have reported are not only proof that our Buffalo Niagara region can successfully compete for new businesses and new jobs, but that this community can prosper in a global economy," Chairman Randy Clark told the meeting attendees. "From the unprecedented support our community is receiving from the state to the results we are announcing today, momentum is growing in Buffalo Niagara. People in and outside of our region believe again in our future. There is excitement about investing in the region and good reason to invest in the BNE as well. We couldn't ask for a better way to enter 2012-2013," Clark concluded.
A copy of the 2011-2012 annual report can be reviewed and downloaded on BNE's Website at http://www.BuffaloNiagara.org/Annual2012.