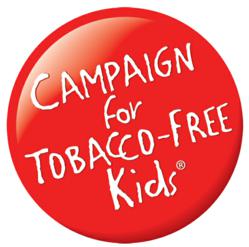 Salsa will help Tobacco-Free Kids stay ahead of the game, engaging our advocates where they reside most often—online
Washington, DC (PRWEB) September 26, 2012
Today, Salsa Labs, Inc. (Salsa) announced a new partnership with the Campaign for Tobacco-Free Kids, which will now use Salsa to interact with the tobacco control community, connect advocates with legislators and accept financial contributions online. Salsa is the creator of the online, integrated platform for nonprofits to build their network of support. The Washington D.C-based nonprofit Campaign for Tobacco-Free Kids, a leader in the fight to reduce tobacco use in the United States and around the world, joins a roster of progressive causes that use Salsa tools to amplify their messages and create real change powered by grassroots action.
In 2009, following a decade-long effort by the Campaign for Tobacco-Free Kids, the landmark Family Smoking Prevention and Tobacco Control Act passed, establishing unprecedented regulations on the manufacturing, marketing, and sale of hazardous tobacco products, due in large part to grassroots organizing. Last year, Tobacco-Free Kids led the Knock Tobacco Out of the Park campaign, which mobilized grassroots advocates and partner organizations to achieve the first-ever restrictions on smokeless tobacco use in Major League Baseball. Salsa will enable the Campaign for Tobacco-Free Kids to increase and improve its grassroots efforts and manage and mobilize an expanding network of online supporters.
"The face of organizing and activism is changing, and Salsa will help Tobacco-Free Kids stay ahead of the game, engaging our advocates where they reside most often—online," said Brian Hutchinson, director of Grassroots Operations, Campaign for Tobacco-Free Kids. "With its impressive interface and intuitive system, Salsa's platform will be an important tool in harnessing people power to break through and reduce tobacco use and its devastating toll.
With Salsa, Tobacco-Free Kids will be able to better engage their eChampions – a group of more than 100,000 supporters – as well as support advocacy work at the state and local level using Salsa's Chapters features, which expands access to organizing tools among campaign affiliates.
"We're inspired by the passion and dedication of the Campaign for Tobacco-Free Kids," said Chris Lundberg, co-founder and CEO of Salsa. "They join a strong network of Salsa clients doing amazing work to protect the health of our children, and we look forward to helping them with this important effort."
###
Salsa Labs (Salsa) helps non-profits and political campaigns to build, organize and engage a base of support, more efficiently and effectively. In one easy-to-use, integrated and flexible web-based system, groups of all sizes can manage their supporters and chapters, communicate through email and social media, fundraise, advocate, host events, and measure results. With all that as well as our top-notch training, support and strong online community, Salsa provides you the best value for your investment - letting you focus more resources on your mission. Salsa currently supports more than 2,000 organizations' relationships with more than 75 million donors, members, activists and fans all around the world. We can do more things together than we can apart. For media information, contact Tim Rusch with FitzGibbon Media at (917) 399-0236. Visit Salsa online at http://www.SalsaLabs.com.
The Campaign for Tobacco-Free Kids is a leading force in the fight to reduce tobacco use and its devastating consequences in the United States and around the world. Tobacco-Free Kids advocates for proven policies that prevent kids from smoking, help smokers quit and protect everyone from secondhand smoke. Visit them online at http://www.tobaccofreekids.org.