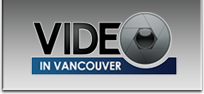 Setting up a powerful system that will dramatically impact clients' bottom line.
Vancouver, BC (PRWEB) September 12, 2012
Colter Ripley, CEO of production company Video in Vancouver, recently opened an overhauled office that features copious improvements to their production of video communications.
A local industry leader with a mission to provide top quality filmography services, Video in Vancouver recently commissioned a new office with ease of navigation and client satisfaction in mind. One of the stated missions by CEO and creative director Colter Ripley includes "setting up a powerful system that will dramatically impact [their] clients' bottom line." This office accomplishes Ripley's goal by integrating high-tech editing labs with sleek boardrooms and a creative environment for client meetings and idea generation.
Internal and external communications alike are relying increasingly on digital video media to project a desired vision while reaching an extensive audience. Important aspects of videos in communications include the potential for viral status, sales strategy, dynamic storytelling and production standards. Ideally, the right video could draw major clients into the company in question, bringing new connections and a productive working relationship. Most companies utilize videos heavily in marketing campaigns and anticipate high view numbers, requiring a bigger attention to detail in commercial videos that had smaller audiences in previous years.
To address the growing demand in communications solutions, Video in Vancouver offers professional videos that client's commission as part of creative marketing and communication strategies. Each video is crafted to offer a competitive and accessible vision of the company within the respective niche or market. Depending on the audience of the video, each product can be part of a company's campaign on Vimeo, YouTube, Facebook and other social sharing websites that enable video sharing or revolve around sharing videos. Some videos can target viral audiences, where thousands of views can happen in days or weeks.
The company blog at http://www.videoinvancouver.com showcases the new office in a recent entry that offers a virtual tour of some key aspects of the new remodel. One photo shows the prominent new signage with company branding, while others include a spacious video editing laboratory, posters showcasing the company's core values, and a comfortable boardroom for client collaboration. The entire space is built around the stated values, which hope to provide the highest quality service for each client.
Creative director and CEO Colter Ripley is the founder of Video in Vancouver and remains an active presence in the company, along with a qualified team of directors, supervisors and strategists. Ripley's stated mission within the company is to fulfill the needs of every client through delivering a final video product that exemplifies the details and qualities that each client needs the most. With the most recent changes to the company's Vancouver office, the company hopes to enjoy a bigger and more involved client base in the days to come.
About Video in Vancouver:
Video in Vancouver specializes in top quality film to improve the marketing potential of any company or project. The company exemplifies ideals such as creativity, powerful client research, technologically resourceful material, impeccable production and overall excellence. The company website at http://www.videoinvancouver.com features an overview of the company mission and more information about collaborating with Video in Vancouver as a client company.
Contact Details:
For more information, e-mail solutions(at)videoinvancouver(dot)com or visit http://www.videoinvancouver.com. To consult with a representative, call 604-765-2444. For project proposals and estimates, visit http://www.videoinvancouver.com/contact.