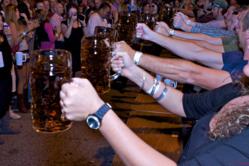 Leave it to the Irish to throw one helluva German party!
Annapolis, MD (PRWEB) September 14, 2012
Fadó Irish Pub & Restaurant is hosting its Fadóktoberfest festival on Saturday, September 22. Live music will be from 6 p.m. to 9 p.m. in the Paddy O Biergarten. A special Oktoberfest menu will be served, featuring German favorites all day long. Attendees will have the chance to test their strength in Becks Strongman Stein Holding contest at 8:30 p.m. For those who prefer to flex their stomach muscles, they can challenge 3 time defending champion, Mick Hensen, in a bratwurst eating contest at 8 p.m. Ladies can participate in a St. Pauli Girl costume and accent contest at 9 p.m. Guests are encouraged to wear their best lederhosen and fanciest dirndl skirts and come prepared to party all night long!