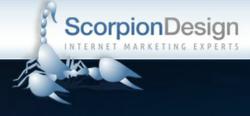 Valencia, CA (PRWEB) September 12, 2012
In their 16th annual competition, Scorpion Design Inc. was honored with the WebAward by the Web Marketing Association (WMA) for "Outstanding Website" on their very own site. Every year, the WMA has been hosting their WebAwards programs – making it the longest running awards program for websites. The judging process is relatively simple, with the WMA accepting nominations on their website for sites from over 90 different industries. These sites are then assigned to three or more "expert judges" to evaluate and score on seven different factors. These factors are given a score on a scale of 0 to 10 and then added up. At the end of judging, each site will be given the two highest scores, which will be averaged for the final score.
Every single year, sites which are given a score of 60 or greater, regardless of how they rank are honored by the WMA with the Outstanding Website WebAward. In 2012, Scorpion Design Inc. was truly humbled to be one of the sites which were honored with this award. They truly believe in working outside of the norm and are always looking for ways to think outside the box. It is their philosophy to not always deliver above and beyond for their clients but to also put their money where their mouth is. They are therefore honored to have received this award for themselves. Beyond this, they're proud to have achieved "Best Legal Website" for work with Crary Buchanan and "Legal Standard of Excellence" with Napoli Bern Ripka Shkolnik LLP.
Since being incorporated in 2003, they have been established as a leader – truly setting the standard in excellence for the Internet marketing and web design industry. Their work has been honored countless times – including earning them a spot two years in a row on the Inc. 5000 list for being one of the fastest growing companies in the nation. They have also been honored by the WMA in 2011 for the Internet Advertising Competition Award for Best Legal Website. If you would like to learn more about how they can work with you on your online marketing, do not hesitate to give them a call today at 866-332-3230.
Scorpion Design Inc. is a legal Internet marketing and website design company. They are focused on helping clients who are looking to engaging designs and SEO efforts – helping to not only gain organic ranking, but also to create websites that convert visitors into users. Recognized as a leader in the industry, they have been able to help countless clients expand their online presence. Visit them online: http://www.ScorpionDesign.com.