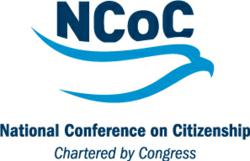 Philadelphia, PA (PRWEB) September 13, 2012
New research proving that a strong civic foundation is directly linked to strengthening employment will be the focus of the 67th Annual National Conference on Citizenship in Philadelphia on September 14, 2012.
The conference is convened by the National Conference on Citizenship (NCoC) and will focus on the state of civic engagement in America. It brings together civic leaders, educators, CEOs, and representatives from each branch of government to address issues related to our nation's civic health. In addition to presenting the new research, it will include an announcement of the winners of the first-ever Civic Data Challenge, and highlights of a new corporate citizenship initiative.
The event will be streamed live from 1:00 PM – 5:30 PM Eastern on the NCoC website and includes speakers such as: Sarah Bloom Raskin, Federal Reserve Board Governor; Jonathan Greenblatt, Director of the White House Office of Social Innovation and Civic Participation; Christina Lurie, Owner of the Philadelphia Eagles; Bob Nardelli, former CEO of Chrysler and Home Depot; and Wendy Spencer, CEO of the Corporation for National and Community Service.
Civic Data Challenge
NCoC launched the Civic Data Challenge in April 2012 to bring new eyes, minds, findings, and skill sets to the field of civic health. It challenged applicants to turn the raw data of "civic health" into beautiful, useful applications and visualizations, enabling communities to be better understood and made to thrive. First place winners, who will be formally announced at the conference, include:
· A team at UC Berkeley that built a website where users can view the impact of the Presidential candidates' proposed economic policies on their pocketbooks. (Politify.com <http://politify.com/)
· A team from Philadelphia's Razorfish office that created an engaging video demonstrating the value of the arts to community well-being, including health, education, and satisfaction. (http://vimeo.com/46536254/)
· A coder from San Francisco who created a website that provides an interactive view of Oakland, CA local business districts, pairing economic data with user photos to attract more business and economic development. (http://openblockoakland.info)
· A nonprofit consultant from Washington, DC and data visualization specialist from Los Angeles, whose submission provides a detailed look at whether or not GDP is a sufficient measure and predictor of community well-being and outcomes in a number of areas. (http://www.goodification.org/WhyGDP)
Additional information about the winning entries, including second place awardees and honorable mentions, is available here: http://www.civicdatachallenge.org.
Conference Awardees
· Nnamdi Asomugha, a cornerback for the Eagles, will receive the inaugural "Role Model of the Year" award, which recognizes individuals who use their public presence to give back to community.
· The Honorable Norman Y. Mineta will receive the "Franklin Award," which is presented to an outstanding individual in federal service. Secretary Mineta served in the cabinet in two Presidential Administrations.
· Jack Miller will receive the "Joseph H. Kanter Citizen of the Year Award." He is Chairman of the Jack Miller Center for Teaching America's Founding Principles and History in Philadelphia, and is a philanthropist and entrepreneur.
· Chris Marvin will receive the "HOOAH Award," which is given to a veteran who defines service to our country both in uniform and beyond. He is Managing Director of the "Got Your 6" campaign, which unites the entertainment industry and nonprofits to ensure veterans and military families are perceived as leaders and civic assets.
The Conference is made possible with support from the John S. and James L. Knight Foundation, the Case Foundation, KPMG LLP, Clearwire, and CSRwire. It is being convened in partnership with the National Constitution Center.
WHAT: 67th Annual National Conference on Citizenship
WHERE: National Constitution Center, 525 Arch St., Philadelphia, PA
WHEN: Friday, September 14, 2012, from 1:00 p.m. – 5:30 p.m.
Media must register to attend, as space is limited. To RSVP or schedule an interview with a participant, please contact Ranit Schmelzer at 202-538-1065 or via email at ranitschmelzer(at)yahoo(dot)com.
###
About National Conference on Citizenship (NCoC)
At the National Conference on Citizenship (NCoC), we believe everyone has the power to make a difference in how their community and country thrive. We are a dynamic, non-partisan nonprofit working at the forefront of our nation's civic life. We continuously explore what shapes today's citizenry, define the evolving role of the individual in our democracy, and uncover ways to motivate greater participation. Through our events, research, and reports, NCoC expands our nation's contemporary understanding of what it means to be a citizen.