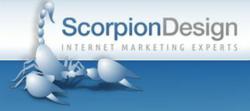 Valencia, CA (PRWEB) September 12, 2012
For 16 consecutive years, the Web Marketing Association (WMA) has been hosting the WebAwards – the longest running annual website award program. Through expert judges, nominations from over 96 industries are awarded on four separate levels – Best of Show, Best Web Site of Industry, Outstanding Web Site and Standard of Excellence. Every year, the WMA accepts nominations through their website in industries of all different kinds. These sites are then split up and given to three or more different judges to view from the point of view of a target user. They are then judged on a scale of 0 to 10 on seven different criteria factors – including design, innovation, content, technology, interactivity, copywriting and ease-of-use.
In 2012, Scorpion Design Inc. was honored to win the "Legal Standard of Excellence" for their work with Napoli Bern Ripka Shkolnik LLP on http://www.napolibern.com. They were honored for being above the average of what was demonstrated in their industry – showing that they are truly exceptional in web development. The WMA describes those honored with the Standard of Excellence award as the goal for which all websites should strive. Scorpion is humbled to have received this award and believe that it showcases not only their ability in web design and Internet marketing, but also their commitment to client satisfaction.
Napoli Bern Ripka Shkolnik LLP is a firm serving those wrongfully injured nationwide. Throughout their years of practice, they have successfully recovered over $3 billion in verdicts and settlements – including over $816 million for over 10,000 heroes affects by the World Trade Center tragedy. With over 150 years of collective experience, their firm is proud to provide truly exceptional legal service – from claims involving asbestos exposure to investment fraud, pharmaceutical litigation and more. If you have been wronged by the actions of another and would like to discuss your potential case with their firm, please visit them online today.
Scorpion Design Inc. is a website design and Internet marketing company representing clients throughout the legal industry. With years of experience, they have designed and built over 5,000 different websites – affording them the type of hands-on experience that cannot simply be imitated. With a company philosophy of always delivering more than promised, they have proven to countless clients what the Scorpion difference can mean. Want to know how they can help you take your online marketing to the next level? All you need to do is pick up the phone and call them at 866-332-3230 or visit them at http://www.scorpiondesign.com.