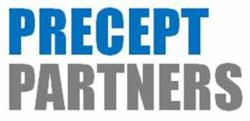 We see the rapid rise in mobile devices as an important long-term trend.
Buchanan, MI (PRWEB) September 14, 2012
The rapid rise of social media and smartphone adoption has sparked lively debate among executives questioning the relevancy of a company's website and the importance of its web presence.
Against this backdrop, the Internet consultants at Precept Partners have answered the challenge with the complete redesign and re-launch of its own company website at http://www.PreceptPartners.com. The award winning, Michigan based Internet design and development firm serves clients in multiple industries throughout the Midwest.
"We see the rapid rise in mobile devices as an important long-term trend; companies that ignore smartphones and tablets may be doing so at their peril. With the re-launch our own website, we paid particular attention to a design that would be easy to use on Android tablets and phones, as well as Apple's popular iPad and iPhone products," said Stephen Antisdel, manager of Precept Partners.
Commenting on the growth of social media Antisdel added, "Our new site includes links to our blog, LinkedIn, Google+, Facebook and Twitter. Obviously, we use social media; it's become a vital part of the larger "Internet ecosystem". But, we don't see it replacing our website or other online marketing initiatives. Social media certainly has a role in building relationships, but it doesn't replace the functionality or expanded "story telling" ability of a well-designed and executed website."
The new Precept Partners website explains the firm's project development process, its six core service offerings, and highlights websites designed and developed for clients in a various sectors including manufacturing, services, e-commerce, and member supported.
About Precept Partners
Precept Partners provides award winning website design, development and online marketing proven by more than $100MM in online sales revenue. Launched in 2003, the company serves clients in retail, professional services, e-commerce, OEM manufacturing, technology and not-for-profit sectors. Client awards and media recognition includes coverage in The Wall Street Journal, BusinessWeek, and NPR. Client awards include the Inc. 500, the Internet Retailer 500, the Hot 100 Best Retail Websites, the Webby Award and many others. More information at http://www.PreceptPartners.com