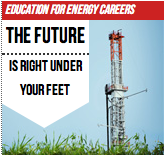 PTI is our go-to source for technical talent because graduates come preloaded with skills that are immediately useful - Dan Deiseroth, Executive Vice President of Gateway Engineers
PITTSBURGH, PA (PRWEB) September 14, 2012
As Western Pennsylvania emerges at the heart of global solutions for meeting the demand for a clean, abundant source of energy, its need for qualified technicians continues to rise.
Immersed in curriculum directly related to the needs of the natural gas industry, Pittsburgh Technical Institute graduates are part of a vast network of specialists that represent American ingenuity for a high-growth industry with specialized demands.
"PTI is part of Pittsburgh's industrial roots," said PTI President Greg DeFeo. "It's been our mission to be an important source of qualified graduates in technical careers for nearly 70 years." According to DeFeo, PTI works closely with industry experts to tailor its curriculum in degree programs like CAD, Information Technology, Safety and Security Administration and Electronics Engineering Technology to meet the rising demands of the industry. "We strive to make absolutely certain that PTI graduates are well-prepared to fuel Pittsburgh's economic growth with the skills needed to help our region reach its potential as the new center of American energy," said DeFeo.
Programs Related to the Energy Industry
Coursework in PTI's Computer-Aided Drafting (CAD) degree program prepares students for entry-level work as GIS technicians as well as for mapping, design and structural drafting positions. Students are ready to work, prepared with competencies in industrial pipe drafting, steel structures, process flow diagramming, engineering technology and civil drafting.
Students who pursue an associate's degree in Electronics Engineering Technology (EET) arrive with the experience of studying technical equipment and processes such as installation, testing, inspection, operation, maintenance, repair, development and sales. EET students learn about the control technology that operates equipment in gas processing plants and how to troubleshoot problems that occur in industrial systems.
Graduates are already finding themselves advancing in careers in traditional and alternative energy. According to Dan Deiseroth, Executive Vice President of Gateway Engineers, internships are a big part of the reason they turn to PTI for qualified candidates. "PTI is our go-to source for technical talent because graduates come preloaded with skills that are immediately useful," Deiseroth said in a recent interview with the Pittsburgh Business Times. Deiseroth stated that Gateway has had to staff up quickly to meet the needs of its contracts with Marcellus firms.
Graduate Success Stories
JENNIFER NELKO, of Moon Township, is a Geographic Information Systems (GIS) Mapping Technical Supervisor for Chevron. She is a 2004 Hopewell High School graduate and earned her degree at PTI in 2006 in Computer Aided Drafting. "My PTI education gave me the technical preparation I needed in various software and applications, but I also advanced in math, science, English and public speaking, all of which have proven essential in my career," said Nelko.
As a leader in natural gas exploration and production, EQT, Inc. turned to Pittsburgh Technical Institute, where they found RICK STAIR. Stair is a resident of Emsworth and Zelienople native who earned a degree in Electronics Engineering Technology in 2010. Today, he is a Measurement Technician at EQT who installs and calibrates meters, performs gas sample analysis, installs and maintains H2S analyzers, moisture analyzers, gas chromatographs, oxygen sensors, batteries, solar panels, and thermal electric generators. EQT employs nearly 2,000 people with an annual payroll totaling $250 million.
After graduating in 2007 from PTI's CAD program, CAMDEN OLSEN most recently accepted a position designing gas well sites with Jacobs Engineering, a full-service engineering, design, construction and modular fabrication firm. Olsen creates general arrangement drawings for a full site and plant layout as well as discipline-specific drawings for things like piping, electrical, and civil/structural plans. Olsen is a Moon Township resident and graduate of Badger High School in Kinsam, OH.
Preparing to Enter the Industry
Career Services Director Josephine Smith believes PTI's graduates are well suited to serve the needs of the Marcellus Shale industry due to a variety of factors. "First and foremost, it's the industry experience of the faculty in our programs," said Smith. In addition to academic relevance, Smith cites internships, hands-on resources, challenging projects and the impact of routine evaluation of PTI's curriculum by industry pros. "Equally important is the depth of commitment each student brings to their educational experience," said Smith.
The combination of student ambition and relevant education can be life changing for PTI graduates. "Now, I'm really seeing the benefits of all the hard work I've put into my education," said Jennifer Nelko. "It's exciting to be part of a time of opportunity."
ABOUT PITTSBURGH TECHNICAL INSTITUTE
Offering career-focused education since 1946, Pittsburgh Technical Institute is a two-year college with a 180-acre campus in North Fayette, west of Pittsburgh. PTI offers degree and certificate programs in areas such as Building Technology, Business, Criminal Justice, Design, Healthcare, Nursing, and Information Technology.
PTI students can take advantage of online course offerings, on-campus residence halls, student activities, intramural programs and community service programs. PTI is accredited by the Middle States Commission on Higher Education.
PTI was recognized by its employees as one of the region's Top Places to Work in a 2011 study commissioned by The Pittsburgh Post-Gazette.