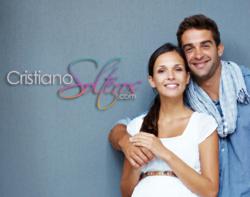 We aim to provide Spanish-speaking Latin singles the same opportunities as all of our members.
Torrance, California (PRWEB) September 13, 2012
In order to cater to both English and Spanish-speaking Latin singles, Latin dating site CristianoSolteros.com is now available in Spanish. The former English-only site now offers both English and Spanish translations to meet the needs of the growing online Latin singles community.
When CristianoSolteros.com launched in July, the Latin dating site was only available in English. The company didn't offer a translation, citing a recent poll that showed that only 42% of users were interested in a Spanish version of the site.
With memberships on the rise, however, the site has decided to offer a Spanish translation to accommodate all Latin singles interested in online dating. This full translation includes all site features, such as search, Latin chat, and E-cards.
Company representative Maggie Danhieux gave some insight as to the company's site update:
"Our goal is to provide all Latin men and women a community to meet and build relationships with Latin singles. By offering a Spanish version, we aim to provide Spanish-speaking Latin singles the same opportunities as all of our members".
CristianoSolteros.com has adjusted its site design to accommodate this change. Latin singles that visit the site will now be able to select a desired language by clicking on a drop-down menu at the top of the homepage.
About CristianoSolteros.com
Part of a leading Christian dating network established in 1997, CristianoSolteros.com is unique in its approach: all of its members are committed to seeking out long-term, faithful relationships. Unlike most dating sites, dating services within the network do not allow casual dating. The sites of this Christian online dating community have gained great popularity and are frequented by Christians from all over the world. An approved member of the BBB online Reliability Program, Christian Singles Commitments Corp is committed to providing safe and secure online dating.