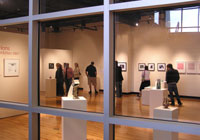 Everyone who sees the incredible light your bulbs produce will be changing to SoLux!
Rochester, New York (PRWEB) September 20, 2012
When hearing the words college and university the first thoughts that might come to mind are scholarship, research, and sports, but increasingly learning institution's art galleries and museums are becoming major sources of pride and distinction.
The first colleges to re-light their art galleries with SoLux daylight illumination specified by the van Gogh museum, National Gallery of Art, MOMA, and Musee d'Orsay were Roberts Wesleyan College's, Davison Gallery and Rochester Institute of Technology's Bevier Gallery both located in Rochester, NY only a few miles from Tailored Lighting Inc., the inventors of SoLux. Since then, many more colleges across the country have converted to SoLux lighting to provide optimal color rendering for their permanent and temporary exhibits.
Jennifer Nichols, the gallery director at McMurry University wrote the following about their first exhibit under SoLux lights, "The lights are illuminating a photography exhibit that is printed on metallic paper and the colors are gorgeous! I've had several gallery professionals visit to see the new lighting and they are most impressed and intent upon changing their current lighting for Solux. Thanks so much for working with us and for providing the very best gallery/museum lighting in West Texas! I'm sure that my bragging rights won't last too long since everyone who sees the incredible light that your bulbs produce and the great looking, compact fixtures that hold them, will be changing to SoLux!"
Sam Knecht from Hillsdale College wrote, "The art faculty at Hillsdale College are thrilled with the new SoLux track system installed in our art center gallery. The lighting, with both ease of installation, quality of fixtures and bulbs, and range of options, has transformed the exhibit space and visitor experience." Other notable colleges and universities to install SoLux are: Alfred State College, Argosy University, Cedar Crest College, The Delaplaine Visual Art Education Center, Hardin Simmons University, Haverford College, Mass. College of Art, Houghton College, Pennsylvania College of Art & Design, Palomar College, Smith College Museum of Art, Sante Fe Community College, School of Visual Arts,SUNY Fredonia, SUNY Stonybrook, University of Rochester.