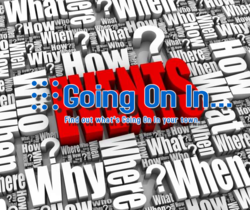 Any event can be prominently featured on the front page of GoingOnIn.com for less than $10 a week
Raleigh, NC (PRWEB) September 14, 2012
People who are looking to promote events can make use of a dynamic online advertising platform called GoingOnIn.com. The website is a huge hub of information about local events in cities all around the U.S. Advertisers can use GoingOnIn.com to promote what is going on tonight, this weekend or this week, and target their content straight to local audiences. GoingOnIn.com has launched its new Featured Events program. Event promoters and restaurants can still advertise on the platform for free but, now for a small weekly or monthly fee, events receive premium placement and beefed up visibility, including the power of Twitter.
Here is how it works: When people in any city are looking for something to do, GoingOnIn.com identifies each user by location and presents the most relevant local search results. That means thousands of "goers" can see exactly what is going on right in their own neighborhoods. Event promoters in local restaurants, theaters and every entertainment venue can put GoingOnIn.com to work.
The "Featured Event" options include front page placement, newsletter inclusion and social media network access, all for a reasonable price considering the benefits. Any event can be prominently featured on the front page of GoingOnIn.com for less than $10 a week. Featured events also get guaranteed "Event of the Week" endorsement by GoingOnIn.com as a top event in the advertiser's local area.
As a part of the Featured Events program GoingOnIn.com is now working with the social media giant, Twitter, to make oniline event promotion more effective. Events featured at GoingOnIn.com can now be promoted to Twitter users by taking advantage of their Twitter Ads feature. It gives new meaning to the power of targeted online advertising.
Event promoters can promote their happenings with pictures and other details to help goers find fun things to do. There are pages for events that are grouped in these categories "Going On Tonight," "Going On This Weekend" and "Going On This Week." There is also a weekly newsletter that further helps advertisers to get the word out about local events. GoingOnIn.com has become a comprehensive advertising vehicle that brings local event information to the people who are most likely to go.
Please direct media inquiries about GoingOnIn.com to Brad at BradJones (at) goingonin (dot) com or by telephone 877-503-6691. For more information go to http://www.goingonin.com.