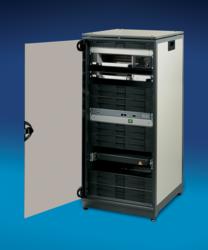 This global platform offers infinite configurability that is easy-to-order and quickly assembled for a functional, yet attractive, multipurpose cabinet solution.
Minneapolis, MN (PRWEB) September 14, 2012
Pentair Technical Products announces the Schroff® brand NOVASTAR™ 19-inch aluminum cabinet platform, offering 46 standard models to accommodate virtually any configuration for rack-mounted electronics and instruments with off-the-shelf convenience.
Engineered for flexibility, NOVASTAR offers two distinct case loads, Slim Line and Heavy Duty, to support load capacities of 200kg and 400kg. The platform is also available in heights from 16U to 47U and offered in a complete range of sizes. Plus, with tool-free assembly, quick-connect fastening system, multiple mounting options and extensive design features, cabinets can be custom configured to meet unique specifications, easily and cost-effectively.
"With its inherent versatility, NOVASTAR provides affordable, high-quality protection that meets today's equipment storage requirements and anticipates tomorrow's electronic equipment growth," said Brian Mordick, Senior Product Manager, Pentair Technical Products, Schroff brand. "This global platform offers infinite configurability that is easy-to-order and quickly assembled for a functional, yet attractive, multipurpose cabinet solution."
NOVASTAR cabinets store and protect 19-inch rack-mounted equipment in a wide range of demanding industries and applications, including:
-Laboratory test and analysis equipment
-OEM test and measurement
-Broadcasting and studio electronics
-Audiovisual, public address and video conference
-Security, monitoring and access control
Additional features and options include:
-Integral square hole (.375 x .375 in.) universal mounting pattern on front and rear uprights accommodate standard 19-inch rack mounted equipment
-A new door hinge design offers a 180-degree opening angle for optimal accessibility
-Modern, low profile appearance with flush panels, recessed handles, latches and hinges
-Grounding cables and connections on all tops, sides, doors, and bases
-Extruded aluminum uprights with integral, 19-inch rack, square mounting holes
-Equipment supports featured on side panels
-Cast aluminum top and bottom
-1.5 mm solid steel top and side panel construction
-Choice of glass or perforated steel doors
-Optional steel and composite casters
-Ingress protection to IP 20, EIA 310-D
-Wide selection of accessories and colors
About Pentair Technical Products
Pentair Technical Products, a Pentair global business unit, is the leading provider of worldwide product and service solutions for enclosing, protecting and cooling electrical and electronic systems. Its industry-leading brands—Hoffman®, Schroff®, McLean®—provide a broad variety of standard, modified and engineered solutions to the commercial, communications, energy, general electronics, industrial, infrastructure, medical, and security and defense markets.
For more information, visit schroff.us or contact Pentair Technical Products at 170 Commerce Drive, Warwick, RI 02886.
About Pentair, Inc.
Pentair (http://www.pentair.com) is a global diversified industrial company headquartered in Minneapolis, Minnesota. Its Water Group is a global leader in providing innovative products and systems used worldwide in the movement, treatment, storage and enjoyment of water. Pentair's Technical Products Group is a leader in the global enclosures and thermal management markets, designing and manufacturing thermal management products and standard, modified, and custom enclosures that protect sensitive electronics and the people that use them. With 2010 revenues of $3.0 billion, Pentair employs over 15,000 people worldwide.
Media Contact: Kelley Schreiber (Next Communications). Phone: 952-934-8220. Email: kelleys(at)nextcom(dot)com.