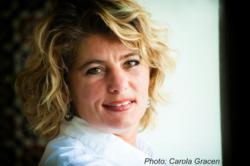 When you build the right mindset for a high achiever and a whatever it takes attitude, your successes just get bigger and bigger.
Fresno, CA (PRWEB) September 14, 2012
Jamie Lee Curtis, award-winning actress and best-selling author, is the featured speaker for the 25th anniversary of the annual Central California Conference on September 18th, 2012.Nadine Lajoie, the "Champion Motorcycle Racer who sings like an Angel" is a guest speaker for 2 sessions of the event celebration, for women of all ages, ethnicities and professional backgrounds. This will be a day of fun, growth and knowledge to be held at the Fresno Convention and Entertainment Center from 7:15am to 5:30pm.
As the "Success Acceleration Trainer" for women and entrepreneurs, Nadine will lead two different break-out sessions to "IN-Power" her audience to "Win the Race of Life… as a Powerful Women" and "Win the Race of Life with Balance and Passion at 180mph". She will share her 5 secrets to becoming a high achiever and her "R.A.C.I.N.G. system to your Dreams," as well as the 180mph Productivity Challenge Builder, a unique 90-day action plan to create fast results. "When they approached me to be one of the speakers, I was stunned, honored and grateful at the same time," said Nadine candidly.
Along with Oscar De La Hoya, Marianne Williamson and Deepak Copra Friends, Nadine was also invited to the California Women's Conference in Long Beach on September 23-24, for her professional expertise. Grammy-award recipients, celebrities and international speakers like Mark-Victor Hansen, John Assaraf and Michael B. Beckwith; Shannon Tweed-Simmons along with Marcia Cross from "Desperate Housewives" will be part of the biggest event for women in country.
Nadine will share insights about courage, determination and success in her businesses and also as a Motorcycle Champion earning over 50 podiums. "When you build the right mindset for a high achiever and a whatever it takes attitude, your successes just get bigger and bigger," Nadine shared. "That's why I train people now and will soon host an upcoming reality TV show called Teen CEO Show, to help teenagers become entrepreneurs and live their dreams and passion."
About Nadine Lajoie - Award-Winning Entrepreneur and "Champion Motorcycle Racer who Sings like an Angel", Nadine Lajoie is a "Success Acceleration Trainer", International Speaker, #1 Best-Selling author of "Win The Race of Life" and 4 times Book Awards Finalist. She semi-retired at 36 years old from her financial business, serving over 800 clients since 1995 in their finances, business and personal journey. She is also the co-founder and TV Host of the upcoming series "Teen CEO Reality TV Show" (http://www.TeenCEOShow.com) to help teenagers to become entrepreneurs as well. Her energy will transform and guide you with tools and strategies to achieve high performance, ACCELERATE your success and put you on the fast track with her "R.A.C.I.N.G System" to drive you into actions to realize your dreams with balance and passion…at 180 mph!
Nadine is available for media interviews, presentations and coaching sessions. For more details visit: http://www.nadineracing.com