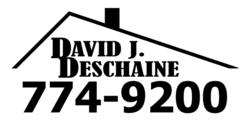 Roof Financing In Maine With Dave Deschaine
South Portland, ME (PRWEB) September 13, 2012
David Deschaine Roofing, a leading roofing contractor in Southern Maine, recently announced that it has relaunched its financing department to offer quality home improvement loans and payment programs to customers that need a new roof or vinyl siding. The company has been set up with a secured portal, which is connected to one of the loan processing centers to speed the approval process and to make the loan documents readily available for signatures.
"After the housing crash in 2008 some of the home improvement funding sources completely shut down those divisions," explained David Deschaine. "Now that stability of home values has taken a turn for the better and our company has been approached by some of the home improvement loan companies to launch our finance department again."
When a homeowner needs to do a some major improvements, like installing a new roof, installing energy-saving vinyl siding, replacing windows or seamless gutters, it may require tapping into a secured loan like an equity line, or an unsecured home improvement loan which David Deschaine Roofing provides using their funding connections. David Deschaine Roofing also offers a monthly payment program, which can help customers budget the large home improvement project that they may be thinking about.
David Deschaine Roofing reports that many roofing companies do not have the financial capacity or available credit references to offer these types of home improvement loans to their customers. The availability of the new home improvement finance department at David Deschaine Roofing signals another step in the company's success in providing superior customer service. For further information about financing a home improvement project, contact David Deschaine Roofing at (207) 774-9200.
About the company:
David Deschaine Roofing and Vinyl Siding Company has been offering professional and trusted home improvement services for over 25 years. With thousands of satisfied customers throughout Southern and Central Maine, David Deschaine has the most trusted and recognizable name in the industry. Servicing ME, Portland and Lewiston-Auburn areas. His company offers 5 Star Coverage to customers, and with 25 years experience there is a benefit of a Workmanship warranty. For more information visit their website at http://www.daviddeschaine.com.