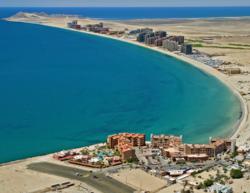 There has never been a production of this magnitude created especially for Baby Boomers.
Puerto Peñasco (Rocky Point) , Mexico (PRWEB) September 14, 2012
Boomer Fest Days will transform the seaside resort of Rocky Point into a festival for the ages. "There has never been a production of this magnitude created especially for Baby Boomers," said Henry Altman, Managing Partner for the event.
With a five-day schedule of events that includes 24 top music superstars and comedians from the 60s, 70s and 80s plus numerous popular boomer activities and entertainment taking over the seaside resort location of Rocky Point, Mexico, Boomer Fest Days 2013 is set to become the premier boomer event heard around the world. The event will be held September 25 – 29, 2013, with several major preliminary events, including a Celebrity/Sponsor Golf Tournament to be held September 25th and 26th, and a Sport Fishing Tournament slated for September 24th-25th. In addition, Altman is bringing together a world-class production team of highly skilled professionals that produce some of the world's most acclaimed festivals. "Boomer Fest Days should become an annual Mecca for Baby Boomers looking to recapture the spirit of their youth that carried them forward for the last four decades," Altman said.
To bring the event to life, Boomer Fest Days has turned to a dream production team that includes superstar talent agent Hal Ray, who has directed the careers of some of the most critically acclaimed and commercially successful artists of all time; producer Jim Hayden of Planet Pictures, winner of virtually every major television award for broadcast excellence including the National Emmy, the Colombia DuPont (three), the Edward R. Murrow Award (three) and the George Foster Peabody, and Australian Patrick Condon, principal of Condon Entertainment, producer of some of the biggest events in the world.
Also joining the team is Ignatius Jones, the major creative force behind the 2000 Sydney Olympic Games opening and closing ceremonies, was instrumental in creating the world-famous Sydney Harbor New Year's Eve fireworks, broadcast to over 500 million worldwide, and the opening and closing ceremonies for the Vancouver Winter Olympics, garnering Jones an Emmy for "Best Direction," "Best Lighting" and "Best Music." These are but a few of the acclaimed productions Jones has created in Europe, North America, Asia, Australia and Africa.
Boomerfest Days has selected In Ticketing as the exclusive full-service ticketing and event management system of the festival.
In Ticketing was selected based on its robust technology platform, client service focus and onsite box office management expertise in challenging festival environments, as well as a sterling record of providing solutions for festivals, venues, and experiences such as, Burning Man, Gathering of the Vibes, Vegas on Demand, Yoshi's Jazz Club, and the Great American Music Hall.
Boomer Fest Days Managing Partner, Henry Altman, stated, "In Ticketing's experience providing state-of-the art ticket technology solutions and premier client services to major festivals and venues, make them a terrific partner for our boomer-generation festival."
"Boomer Fest Days also has the full support of Mr. Javier Tapia, General Coordinator of Tourism for the state of Sonora; Sergio Cesaretti, Director of Tourism Promotion for the state of Sonora; Mr. David Figueroa Ortega, Consul General for Mexico in Los Angeles; Jorge Gamboa Patrón, Director of the Mexico Tourism Board in Los Angeles, and many other authorities who have lent us their invaluable support. Mr. Figueroa also happens to be from the great state of Sonora, and appreciates the positive impact a festival of this kind can have for tourism to the area," commented Altman.
The choice of Rocky Point, Mexico, as the venue was ideal. With 31,500,000 Americans living within 400 miles of the Festival site (including top Boomer counties such as Maricopa in Arizona, and Los Angeles and Orange counties in California) and easy access via new highways, toll roads and a new International Airport, this seaside vacation spot is the ultimate setting.
"Boomers lead direct foreign investment in real estate, relocation and retirement in Mexico, and represent the highest influx of tourism dollars spent in this country," said Altman. "Rocky Point is a popular destination already, and with this annual event we're looking to stimulate the local and regional economy while changing public perception regarding the safety of the area." Boomer Fest Days will also be recorded for a television special that could reach as many as 100 million USA households, promoting Mexico to all of them.
More than just a music festival, Boomer Fest Days will include a food and wine festival featuring seafood from the Sea of Cortés and wines from the states of Sonora and Baja California, a motor sports exhibit featuring classic car and motorcycle collections, an arts and crafts expo, and golf and fishing tournaments, all of which have huge appeal to Boomers. Accommodations include luxury campsites, two- and three-bedroom luxury condos, and beachfront houses and villas that Boomer Fest has reserved for the event, so couples and groups are encouraged to come together to optimize use of the space. Gustavo Brown and Reyal Taylor Pratt, owners of local resort development and real estate company, Sandy Beach Resorts (SBR), have been instrumental in bringing together Rocky Point hotel, condo and villa owners along with their reservations and management companies and associations to the table.
"We encourage patrons to arrive between September 21st and 23rd and stay late, as there will be numerous activities during the week in and around town to celebrate the festival," said Altman. "VIP ticket holders will also have access to private parties throughout the festival week, backstage passes, top-of-the line swag bags and much more."
The festival will include:

Celebrity and Sponsors Golf Tournament September 25-36
Celebrity and Sponsors Sport Fishing Tournament September 24-25
Food and Wine Festival September 25-29 with regional wines from Sonora and local chefs
Arts and Crafts Sales and Exhibitions September 25-29
Motor Sports Exhibit, September 25-29 featuring Vintage Cars and Motorcycles
Performances September 27, 28 and 29 with music starting at 4:00 p.m. through 1:00 a.m.
Laser Light Show and Mega Fireworks
Off-Road Car, Truck and Motorcycle Exhibition
Boat and RV plus Personal Watercraft and ATV Exhibit
Carnival midway games and Ferris wheel
Personal watercraft, Sea-Doo and ATV rentals
Medical Information Center, learn about Mexico healthcare and dental facilities
And much more
The immediate impact on the local economy could exceed USD $49,000,000 over the five-day Festival, projecting very conservatively that each of the attendees should spend an average of USD $300 per day. Boomer Fest Days will employ nearly 2,000 local residents to work at the festival. The project will also include the installation of some permanent infrastructure that will lay the groundwork to create an annual event.
The town of Puerto Peñasco and the state of Sonora will also benefit from the massive amount of positive press coverage in the U.S. mainstream media, much of it generated by the large number of international news and media that will be present covering the event and interviewing attendees of the Festival. Additional focus will be on several regional not-for-profit organizations that will benefit from the Festival Organizers' donations that have a target goal of USD $500,000.
Tickets officially go on sale May 2013 through the Boomer Fest Days website: http://www.boomerfestdays.com.