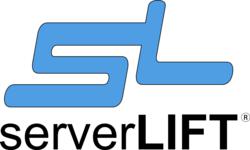 Phoenix, AZ (PRWEB) September 13, 2012
On August 23rd ServerLIFT CEO Ray Zuckerman was invited back to the White House by Fred Hochberg, the Chairman of the Export-Import Bank (EX-IM), to participate in an industry roundtable discussion. Several business executives gathered in the Roosevelt Room of the West Wing to exchange ideas for increasing international exports by U.S. companies to boost the American economy. All the attendees of the meeting were exporters that are supported by the EX-IM for international business activities.
The Administration presented some very interesting points and facts that led to an open discourse on international business expansion opportunities. One of the key challenges discussed was how to increase the ratio of export to import businesses. Currently, only 1% of the more than 30 million U.S. companies are active in exporting goods to other countries. Meeting attendees all agreed that finding new, creative ways to increase exports would be a critical factor in stimulating economic growth, and that the opportunities to do so were available in abundance.
ServerLIFT Corporation is a privately-held company based in Phoenix, Arizona that manufactures specialized server lifters designed to safely handle IT equipment in data centers. In business since 2002, satisfied ServerLIFT Customers can be found in 39 countries worldwide.
For more information, videos, and product details visit http://www.serverlift.com