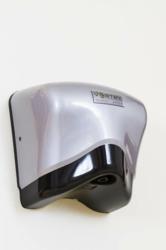 If you're still using conventional hand dryers or paper towels, you could be literally throwing money away
London (PRWEB UK) 13 September 2012
It has been an exceptional year for entries and it is a real achievement for SAVORTEX with the Eco Smart Vortex hand dryer to reach this stage. The presentation of the winners will take place on the 25th October at the Royal Garden Hotel, Kensington, London and marks the 20th anniversary of the Awards, so there is even more to celebrate. The Judges commend all finalists for their innovation, ingenuity and important contributions to the success of the electrical industry.
Selected by a distinguished panel from the electrical industry, the winners in each category are selected on innovation, problem-solving, and development of technical skills.
SAVORTEX's principle is to lead business sustainability through innovation and the development of revolutionary, Eco-friendly hand drying products. The result is the Vortex 550 EcoSmart hand dryer.
Syed Ahmed, Managing Director at SAVORTEX added " We set ourselves a task; How could we eliminate the use of environmentally unfriendly, costly paper towels and the use of energy hungry heating elements and out-dated, brushed motor technologies incorporated within conventional hand dryers, yet still give consumers an unrivalled performance from their hand dryer? The result of our R&D is the award winning Vortex 550. If you're still using conventional hand dryers or paper towels, you could be literally throwing money away."
SAVORTEX found that energy consumption and a long life cycle, were the two critical factors contributing to the overall cost saving of a hand dryer. Hence, SAVORTEX are proud to announce that their Vortex brush-less bypass Motor technology has passed 2.4 million duty life cycles.
SAVORTEX, improving washroom sustainability.
Electrical Times Awards 2012 http://www.electricaltimes.co.uk
The award for Energy Efficiency Initiative of the Year 2012 is based on evidence to show savings made as a result of the introduction or application of a process, system or product. Be it a new approach to a manufacturing process, a materials application, or the introduction of a product with an increased lifespan, or greater running efficiency. Particular emphasis will be placed upon the innovative use of renewable energy sources
About SAVORTEX
The Guinness World Records title, Most hands dried using 30kJ of energy, was devised by Guinness World Records officials as a challenge to measure the energy efficiency in hand drying. The Vortex 550 EcoSmart successfully dried four pairs of hands using less than 30kJ of energy. Typically, hand dryers use between 72kJ and 96kJ of power to dry just one pair of hands. SAVORTEX successfully achieved four pairs of dry hands using just under 25kJ of energy – smashing the minimums set by Guinness World Records officials and claiming the world record.
Find us at http://www.savortex.com and follow us @Savortexuk
Suzanne(at)savortex(dot)com
SAVORTEX Ltd, One Canada Square, 29th Floor, Canary Wharf, London E14 6DY
T:+44 (0)207 956 8840