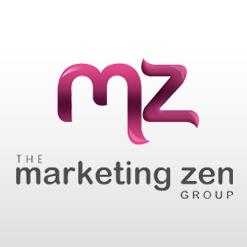 Dallas, TX (PRWEB) September 13, 2012
The Marketing Zen Group today announced that it has been named to the 2012 Empact100 list by Empact, an organization that focuses on making entrepreneurship a viable career option for everyone around the world. Now in its second year, the Empact100 has again recognized The Marketing Zen Group and CEO, Shama Kabani as being among the United States' "Top 100 Companies Started by Young Entrepreneurs." Kabani will be honored at a formal ceremony to be held Friday, September 28 in Washington, DC at The White House.
"We are truly honored to be included on this list of top entrepreneurs and companies making a difference," said Shama Kabani. "Our team has worked tremendously hard to make The Marketing Zen Group a leading online marketing company in the U.S., bringing value and generating significant growth for our clients." The 27-year old CEO is also the author of the best-selling book, The Zen of Social Media Marketing (BenBella Publishers), which was just released in its second edition and has become required reading at many colleges across the country.
The Empact100 list is comprised of the top 100 companies in the Empact Showcase, a compilation of the United States' leading entrepreneurs who are age 30 and under, and whose annual revenues or operating budgets (for non-profits) are more than $100,000. In 2012, the companies on the Empact Showcase contributed more than 8,000 jobs to the economy, and controlled $1 billion in revenue.
Since 2009, under Shama Kabani's leadership, The Marketing Zen Group has helped hundreds of companies and non-profits increase awareness, showcase value, and drive up revenue through effective and meaningful online communication. In addition to the Empact100, Shama Kabani has been named to Business Week's list of top 25 under 25 entrepreneurs in North America in 2009, and in 2010 won the prestigious Technology Titan Emerging Company CEO award.
About The Marketing Zen Group
The Marketing Zen Group is an award winning full-service web marketing and digital PR firm dedicated to providing turn-key services for businesses and organizations looking for more leads, higher online visibility, and a better brand reputation. Founded in 2009, the company has experienced an average growth of 450% a year. Learn more at http://www.MarketingZen.com
About Empact
Formally known as Extreme Entrepreneurship Education, Empact aims to facilitate a culture of entrepreneurship in communities around the world by exposing young people to entrepreneurship, supporting early stage entrepreneurs and celebrating the vital role young entrepreneurs play in our economy. Empact has worked with over 400 colleges & universities, workforce development organizations, Chambers of Commerce, and Small Business Development Centers to help promote entrepreneurship among aspiring entrepreneurs. For more information on the Empact100, visit http://www.empact100.com.