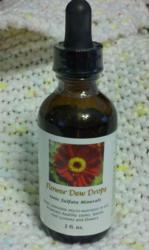 Zen on a Stem!
Jackson, MI (PRWEB) September 14, 2012
Van Dyke Zinnias, online flower seed company in business through LobaTek Incorporated since 1998, announced today it has opened a new line of water purification products for the 2012-2013 growing season. Introducing Flower Dew Drops.
Exclusive distributors of Flower Dew Drops at Van Dyke Zinnias online store, the announcement came after one of the hottest summers in recorded weather history in the Midwest and the nation, where plants and trees were scorched by unrelenting summer sun. Van Dyke Zinnias suffered few ill effects because of the application of Flower Dew Drops, ionic sulfate minerals, added to the irrigation procedures at the company.
Flower Dew Drops' provisioning of a superb alternative to plant and flower food and multi-product fertilizers used in support of plant health and beauty is available now to the general public, horticultural, agricultural, and floral specialists.
Flower Dew Drops is a revolution in supporting holistic natural plant health. Flower Dew Drops is now available to gardeners, fortifying the soil with a combination of a unique mix of sulfate minerals. Just add a few drops to the water source to add back lost essential minerals to the soil in which the plant grows. Lush and verdant stems and leaves, vibrant colored flowers, and stronger root systems will be the reward.
Floral shops, Farmers' Markets, and supermarkets -- any cut flower vendor -- will find Flower Dew Drops may be the only product in the world to purify the water in cut flower vases well enough to extend the vase life as long as three weeks, depending on flower and plant variety.
This solution, rich in minerals found naturally in Nature, is formulated to improve general plant health by helping to stimulate micro-nutrients in the soil.
COMPOSITION: 100% Natural Ionic Sulfate Solution extracted from volcanic rock.
BENEFITS OF FLOWER DEW DROPS:
Purifies even the dirtiest water;
Kills 4 types of E. Coli and so may be useful as a vegetable wash before cooking or eating or to purify the water added to cut flower vases;
Precipitates modern water contaminants rendering them inert and benign;
Powerful plant systemic cleansing agent;
Used internally by plants through their drinking water;
Used externally as a wash, hydrotherapy & on plant wounds;
Reduces fluoride & chlorine automatically;
Reduces heavy metals, toxins & mercury;
Helps prevent powdery mildew, black spot, and other nuisance plant diseases;
100% natural from biotite.
Visit Van Dyke Zinnias at http://www.vandykezinnias.co/vandykezinnias/flowerdewdrops.html for more product information on Flower Dew Drops and to locate contact details.