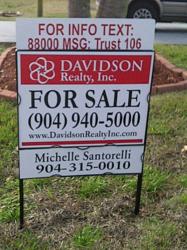 Jacksonville, Florida (PRWEB) September 13, 2012
Davidson Realty, Inc., the premier Jacksonville and St. Augustine real estate company, is launching Saturday Home Tours that make it easy for home buyers to tour a variety of homes for sale without the hassle of the hunt. The "Park & Ride" home tours will be offered each Saturday starting September 15th, at 10:00 am and 2:00 pm. Home buyers meet at the Davidson Realty office in World Golf Village and ride with an experienced Davidson Realty Agent for a no-pressure house tour. Homes featured on the tour will be announced weekly at http://www.DavidsonRealtyInc.com.
The "Park & Ride" home tours let home buyers relax without worrying about getting directions and finding their way, while an informed Realtor® tells them about the neighborhoods, schools, amenities, comparable prices and other important details about homes for sale. Two convenient times are offered each Saturday at 10:00 am and 2:00 pm and a new list of homes on the tour will be announced by Wednesday of each week. No reservations are required.
The Davidson Realty Home Tours will focus on the neighborhoods in and around World Golf Village, including the 210 corridor, Ponte Vedra, St. Johns and other parts of northern St. Johns County. The tours depart from the Davidson Realty office at 100 East Town Place in World Golf Village. More information is available at http://www.DavidsonRealtyInc.com or by calling 904-940-5000.
About Davidson Realty, Inc.
Davidson Realty, Inc. is a leader in Florida real estate, specializing in houses in Jacksonville and St. Augustine. The firm has been at the forefront of Jacksonville, Florida realty for 20 years. From its headquarters at the renowned World Golf Village in St. Augustine, Florida, Davidson Realty markets and sells residential and commercial projects in Jacksonville, St. Augustine and the surrounding areas. Davidson's founders are the original developers of World Golf Village and the company remains the hands down experts on golf course homes and golf communities in Florida. Davidson Realty has more than 30 Florida Realtors helping buyers and sellers alike. The majority of Davidson Realty agents hold the Certified Distressed Property Expert (CDPE) designation, providing special expertise for navigating through the changing climate of short sales, foreclosures and distressed properties. In addition, Davidson Property Management handles leasing for Jacksonville and St. Augustine homes. And Davidson Development specializes in large scale development opportunities.
For more information about Davidson Realty, call 904-940-5000 or visit http://www.DavidsonRealtyinc.com, Fan them on Facebook at http://www.Facebook.com/DavidsonRealty, follow them on Twitter at http://twitter.com/DavidsonRealty or visit their videos on YouTube at http://www.youtube.com/user/DavidsonRealtyInc.
# # #